IC14 Vignettes – Laura Loucks (Canada Midnight Suns)
Saturday, August 16 2014 @ 06:50 am ACST
Contributed by: Wesley Hull
Views: 1,090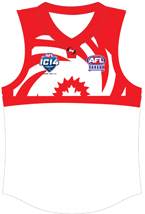 Australian Rules football can count itself lucky to have secured the talent of Laura Loucks. "So how I discovered footy is kind of a funny story, I actually thought when I signed up I was signing up for rugby! I originally wanted to play an iconic Australian sport and rugby was the first thing that I thought of."
"When I saw the stall at my [Griffith University, Brisbane] orientation week club fair and I had no idea AFL was a different sport (since everything here is called footy). So when I went to the first training practice I was a little shocked to say the least! I started in 2013 and this is my second season with the Griffith Moorooka Reds."
"[This is my ] first time at the International Cup but hopefully not my last! I had no idea this cup even existed. I only found out about it around March this year." But we are certainly glad that Laura did.
Even though Laura is part of the Canada Midnight Suns team, "I haven't played in Canada so I can't say much [about the game there]... but the [quality of the] girls who have come over here, especially last minute for the Midnight Suns, shows that Canada is turning out quality female footballers."
"I would love to play for Team Canada's Northern Lights at the next IC17 and to continue to play footy in Queensland. I still have a lot to learn and I have been fortunate enough to have some amazing team mates back in Queensland who have been helping me to develop my footy skills over the last two seasons."
Laura, ever the patriot, has her tips for IC14. "The women's hands down Northern Lights!!! GO CANADA!!! In the men's any team but the USA!!"
And Laura's final word. " If there is anyone coming to Queensland, especially Canadians, who are interested in playing AFL my club is always looking for players. Also the GM Reds are going to smash the University of Queensland on August 30th!!! GO Reds!!"
"I am pretty passionate about this sport and the amazing experiences and opportunities such as the IC14 that has come with playing it."