IC14 Vignettes – Steven Matshane (South Africa Lions)
Thursday, August 14 2014 @ 08:01 pm ACST
Contributed by: Wesley Hull
Views: 1,045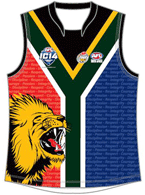 Steven Matshane is the Community Development Officer for AFL Footywild, based in Potchefstroom, South Africa. But his current job is being part of the South Africa Lions at this year's International Cup. Steven has had a long relationship with the game, shared with us in this story.
"I discovered Aussie Rules footy in 2002 when I was 14 years old. I was recruited from my school by our teacher who was involved in AFL footy, Mr Mokotedi. At that time Aussie Rules was only played in the Northwest Province in three communities: Itsoseng, Ramatlabama and Mafikeng where I come from."
"I play for the team called the Wild Cats and my role in footy South Africa is a development coordinator. Our Job is to grow Australian Rules football in South Africa through our program called 'Footywild'. I like this game for many reasons. Firstly it is very welcoming and it doesn't discriminate race, nationality or colour. I love it because I can play it according to my ability. I was a sprinter and now I use my quickness when I play. I also love to see how happy it makes people when they are involved, no matter where they come from."
"The game is growing in South Africa by the numbers. We have four provinces with two teams each, playing in what is called the Premier League."
"My IC14 gets better by the day. The games my team are playing is getting even better and my team is ready to go all the way."
"The International Cup is a very good carnival. It's a motivational thing to encourage players to the sports because back at home is never easy to play because of poverty and crime. The IC14 is something to look up to. It is also good for recognition of the game as it helps us spread the story of the game [to others].
"I will say we are ready and working hard to go to the finals. I say South Africa Lions will win [the men's competition], and in the women's competition I think Ireland can win again."
Steven's final word on the game of Australian Rules football is a fantastic endorsement of the game. "All I can say is AFL football is the greatest game on earth and we South Africans love Aussie Rules."