IC14 Vignettes – Mika Kupila (Finland Icebreakers)
Wednesday, August 13 2014 @ 10:23 am ACST
Contributed by: Wesley Hull
Views: 896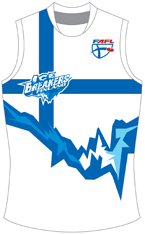 The Finland Icebreakers have returned to the International Cup in 2014 after missing the event in 2011. This year they have put together a competitive and eager team which includes Mika Kupila from the Helsinki Heatseekers. A brief chat with Mika looks at his footy background.
"I started [playing the game] just before the 2008 games, so it is six years now. A friend of mine did an exchange in Australia and fell in love with the game. He convinced me to come give it a go and I have loved it ever since."
"I have been at many of the European tournaments but this is my first time here in Australia for an International Cup.
Asked about the progress and development of the game in Finland, Mika suggested "it could always be better, but it's going alright. We're struggling with numbers at times but the teams have a strong player base. There's some talk about a new team starting up soon so need to keep our fingers crossed for that. Skill-wise the level has progressed heaps in the previous years."
So, who will win this year's men's and women's titles? "I think PNG will take home the men's trophy while one of the teams from the USA could win the women's."
"I am really excited to be here finally. So far everything has gone really well and I have enjoyed every moment. I know there's been some talk about uneven games but, having lost to the U.S.A by some 178 points, but I still think those games are really good learning experiences. And a good quarter against a clearly better team can give the players a massive motivation boost."
We wish Mika and the Icebreakers all the best for the remainder of their International Cup journey.