Round 2 predictions for the WFN World Rankings
Tuesday, August 12 2014 @ 09:45 pm ACST
Contributed by: Cam Homes
Views: 899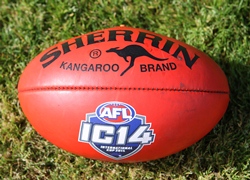 International Cup 2014 and World Footy News World Rankings - Pre Round 2
Round 2 of IC14 will produce more interesting outcomes on the WFN World Rankings as all but three matches will see rate exchanges take place with as many as 13 nations rising or falling in Rank.
Let's look at the three matches where the rating gap is greater than +/- 10.00 first. Ireland (55.15 rating points): 2nd v France (36.09): 15th, Papua New Guinea (54.66): 3rd v India (28.45): 21st and New Zealand (53.00): 4th v China (31.36):18th are first time encounters between these nations where fortunately no advantage is gained by the higher ranked nation and likewise no points are lost by the lower ranked nation tho unfortunately blow out scores are very likely.
Three further first time encounters include Fiji (40.18): 12th v Indonesia (40.00): provisional and Japan (30.39): 19th v Pakistan (39.56): provisional, where despite the rating gap being very close (+/-0.18) in the first instance and Pakistan's rating points being higher than Japan's it is unlikely for the two debutant nations to prove superior to Fiji or Japan. Wins by Fiji and Japan will see each nation rise one place at the expense of Croatia and China respectively. The South Africa (49.47): 6th v Tonga (44.73): 9th is also the first meeting of these two nations and since the Ranking Scheme predicts that the higher ranked nation will win more often than not a win by South Africa will push Tonga down one place to 10th below Denmark ring to 9th.
However, if Tonga were to upset South Africa they could leap from 9th to 7th place with South Africa falling to 8th place.
The remaining three matches are between nations that have met before at International level, the first we look at is Nauru 5th (51.17) v Great Britain 7th (46.88) have a win each and the rating gap is +/- 4.30. A Nauru win will push Great Britain one place to eighth. Great Britain would rise to 6th and Nauru would fall to 8th if Great Britain were to prevail over Nauru.
United States 8th (46.61) and Canada 13th (40.08) meet yet again with the Revolution having the wood over the Northwind with 12 to 1 superiority and a USA win combined with Great Britain losing to Nauru will see them climb to 7th place. If Northwind can pull off an upset then USA would fall to 10th place and the Northwind climb to 12th place.
The final match of the round we look at is Sweden 16th (35.74) v Finland 20th (29.02) and Sweden having a 4-0 record over the IceBreakers. Rating gap is +/- 6.72 so Sweden could climb 2 places to 14th pushing Peace Team and France down 1 place each. Finland losing will see them fall from 20th to 21st. However if the Icebreakers can bring down the Elks they will drag the Elks down to 18th place and climb to be 'frost' biting at their heels at 19th place.
This round promises to be very exciting as far as movement up and down the ranks is concerned, lots will happen and even more rises and falls could happen.
.
Best of luck to all the combatants!!!