IC14 Vignettes – Mayur Paymar (India Tigers)
Tuesday, August 12 2014 @ 07:53 am ACST
Contributed by: Wesley Hull
Views: 1,428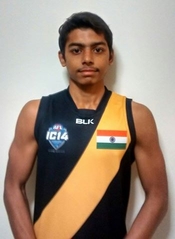 At just 20 years of age, Mayur Paymar is a virtual "veteran" of Indian Australian Rules football. He has been part of the football scene in Mumbai, as part of the ever growing AFL Maharashtra league from a very early stage. His account, and his journey to the fields if the IC14, is a fascinating story of a new country to the game embracing it.
"I will never forget the day that I discovered my passion. It was a bright and beautiful day to work in my office. I went early and started my work for the day: Organizing files, entering data in the computer, etc. Then, Chris Way the founder of (Reality tours and Travel) called me in to his office. He must be calling me for some work, I thought. But that day was not like other days."
"Chris told me to get ready with shorts, an extra shirt and sport shoes. He also told me to get other kids in community to come too. We were going to Shivaji Park. Shivaji Park?? I didn't know why we were going. People go to Shivaji Park to play football, cicket, kho kho, volleyball etc."
"Oh yes!! We will play cricket today, I thought. And with this thought we reached Shivaji Park. But what I saw was more amusing. I saw a group of people playing with a funny oval-shaped yellow ball. It was an Australian football. I touched it. Felt it. Kicked it. Then fell in love with it."
"Now, two and a half years later, I am the captain of the Maharastra Aussie Rules Football team and I help organize and promote Aussie Rules Football in Mumbai. Fifty kids from Dharavi now play Aussie Rules Football. And I never thought that I would get a chance to represent my country India. This has been my proudest achievement."
"The team [for this year's International Cup] is really very good. Our thanks to the Richmond Tigers to support AFL India. We have also got some very good experienced players from Masala Football Club based in Melbourne. So that's helps us a lot to improve our game sense and skills."
As a final word, Mayur considered the health of the game in India at the moment. "The passion for the game has been very much improved over last couple of months. Now we have 100 kids that are playing every weekend, even with the monsoon other every single day.
Who does Mayur believe will take out the International Cup in men's and women's competitions? "In men's I think Ireland will take it out again. But I think Canada in the women's."
Mayur's journey and story is a great account of one person's growth with a game in the world's second most populous country. We hope that growth continues and the team enjoys and grows from the rest of the International Cup experience.