Women's Division - Canadian Midnight Suns shine over Tonga Storm
Sunday, August 10 2014 @ 09:12 pm ACST
Contributed by: Harley Vague
Views: 2,045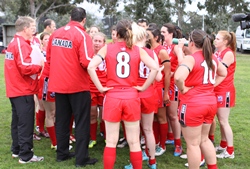 With the temperature dropping a little, with a rising cold wind, conditions were good for football, though the centre squares were slippery from the previous night's rain. Throughout the day, play wasn't affected which was fantastic considering the earlier predictions. The quarter started with the ball locked into a very large Tonga forward line.
As the quarter progressed the Canadians were able to string some good football passages together which looked as they had been well-practiced. Halley Costanza was responsible for bursting through traffic to set up the only goal for the quarter as well as a number of other good movements.
The second quarter saw the Storm apply midfield and forward pressure and manufacture a goal mainly through the efforts of Nelma Ongolea who roved tirelessly around the ground. The Suns steadied and eventually established a systematic classical style of play. They did so with a spearhead in the form of Veronica Fernandez who marked and kicked truly and responsible for two other dangerous-looking points. Eventually this would be shown as the quarter where the Suns won it.
The third quarter was a very even affair with first one side and then the other almost grafting a score. Indeed the siren went when the Storm had managed to string together a series of marks and were pressing close for a score. The standout for the quarter was Nelma Ongolea who was everywhere and Holly Carlson probably was the hardest worker for the Suns.
The sun made a welcome appearance and it was the battle of the defences in the last quarter. Where previously the Suns had a spearhead Nina Alofaki was running off her opponent and the Storm strung together some good passages of play usually involving Nelma Ongolea. Their physical style of play prevented the Suns settling into their previous comfortable (and scoring) style. The Suns may be the second Canadian side but obviously they have benefitted from training beside the Canadian Light's players and will be competitive in this tournament.
The Storm took a while to find their balance of physicality and ball movement, but they should be more competitive here on in, having matched the Suns in three quarters.
| | | | | |
| --- | --- | --- | --- | --- |
| Canada Midnight Suns | 1.0 | 4.4 | 4.3 | 4.7 (30) |
| Tonga | 0.0 | 1.1 | 1.1 | 1.1 (7) |
Goals
Canada: Fernandez 2, Fenton 1, Charles 1
Tonga: Manu 1
Best players
Canada: Tonga, Gazerly, Carlson, Shannon, Fernandez, Lowden
Tonga: Manu, Lelenga, Manu, Ongolea, Haamano, Alofaki, Faka'ilota'u