WFN Men's World Rankings post Round 1 IC14
Sunday, August 10 2014 @ 08:36 pm ACST
Contributed by: Cam Homes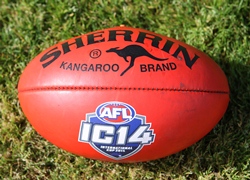 All the matches in Round 1 went pretty much as the Ranking Scheme predicted, that is, higher ranked country prevailed over its lower ranked opponent. Six of the seven matches that had a +/- 10.00 rating gap all produced over a +100 point wins for the favoured nation, although Great Britain's win over France couldn't be called close or lineball either, eg 12.17 (89) to 1.1 (7).
The two remaining matches that were expected to result in changes in rating points also were +100 point wins, South Africa 23.22 (160) d. Pakistan 2.2 (14) and Canada 19.5 (119) d. China 0.1 (1). This loss by China as predicted has seen China (31.36 rating points) fall to 18th below Germany (34.09).
Click full story to see the World Rankings standings after today's play.
World Footy News Men's World Rankings 10th August 2014
nb "Games played" refers to international matches played at least 16 a side, under IC eligibility rules.
| Rank | Country | Points | Games played |
| --- | --- | --- | --- |
| 1. | Australia | N/A | N/A |
| 2. | Ireland | 55.15 | 45 |
| 3. | PNG | 54.56 | 30 |
| 4. | NZ | 53.00 | 34 |
| 5. | Nauru | 51.17 | 23 |
| 6. | Sth. Africa | 49.47 | 23 |
| 7. | G. Britain | 46.88 | 50 |
| 8. | USA | 46.61 | 38 |
| 9. | Tonga | 44.73 | 10 |
| 10. | Denmark | 43.67 | 47 |
| 11. | Croatia | 40.35 | 8 |
| 12. | Fiji | 40.18 | 10 |
| 13. | Canada | 40.08 | 38 |
| 14. | Peace Team | 36.46 | 11 |
| 15. | France | 36.09 | 9 |
| 16. | Sweden | 35.74 | 31 |
| 17. (+1) | Germany | 34.09 | 16 |
| 18. (-1) | China | 31.36 | 12 |
| 19. | Japan | 30.39 | 25 |
| 20. | Finland | 29.02 | 14 |
| 21. | India | 28.45 | 12 |
Provisional Nations
| Rank | Country | Points | Games played |
| --- | --- | --- | --- |
| ## | Indonesia | 40.00 | 1 |
| ## | Pakistan | 39.56 | 1 |
| ## | Iceland | 35.64 | 4 |
| ## | Timor Leste | 27.40 | 6 |
Dormant Nation (over five years since last played an International)
Samoa, 41.85pts, 18 games played
Comments (0)
---
World Footy News
http://www.worldfootynews.com/article.php/20140810203625866