IC14 Vignettes – Kevin McSorley (Irish Warriors)
Saturday, August 09 2014 @ 07:23 pm ACST
Contributed by: Wesley Hull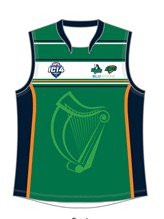 Kevin McSorley has waited a while to get out on the field and debut with the Irish Warriors at an International Cup. Originally selected as part of the Warrior's squad for IC11, Kevin sustained an injury which ruled him out of making the trip.

But tomorrow, his second chance arrives when the Irish Warriors take on the Fiji Tribe as stage one of the team's quest to win back to back International Cup titles and win their third men's title.

But Kevin's road to Melbourne has been both exciting and varied. "The mix of GAA and rugby gave me the fundamental [football] skills along with the compromised rules series Ireland v Australia. I was introduced at age 19 to the Irish club Belfast Redbacks."

"A few years with Belfast Redbacks led to Irish trials and Euro 9's cups in Belfast and Edinburgh winning both. Then the Euro 16's last year, also playing for European Islands [in the curtain-raiser match] before Bulldogs v Power in London and also the European Titans v AIS/AFL Academy. Now there is this IC14 [which is] a great pathway and [offers] excellent opportunities."

Kevin is very confident about Ireland's chances at this event. "Ireland for both!" he says about the predicted winners of this year's event. "We hope to go all the way [with] well prepared great players and great coaches give us a great shot."

When asked about the current Australian Rules environment back in Ireland he says it is "fairly healthy, but would love to see it grow further from youth level. As Development Officer in Ireland I'm putting strategies in place to ensure this happens." Certainly, if Kevin's groundwork now can take root, Irish Australian Rules teams may continue to dominate for years to come.

As a final comment, Kevin gives a nod to the value of the International Cup concept. "It's an excellent run competition. [It is] a credit to the AFL and an experience of a lifetime. It is great to share the interest with nations worldwide and hopefully we will proudly lift the cup."

Let's see if the luck of the Irish can hold, and that Kevin gets to enjoy his debut at this event.

Comments (0)
---
World Footy News
http://www.worldfootynews.com/article.php/20140809192351298