International Cup 2014 & World Footy News World Rankings
Saturday, August 09 2014 @ 07:00 pm ACST
Contributed by: Cam Homes
Views: 1,749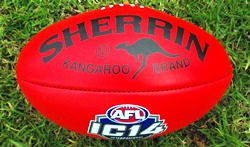 Cam Holmes takes a look at the World Footy News World Rankings and how they may change during the first two rounds of IC14. More info on how they are calculated and links to the results used to calculate them can be found at
World Rankings
Round One
In all but two of Round 1 matches, the rating gap between the competing nations is greater than +/_ 10.00 rating points. When the rating gap exceeds +/- 10.00 no advantage is gained by the higher ranked nation and likewise no points are lost by the lower ranked nation. The Ranking Scheme predicts that the higher ranked nation will win more often than not so in this case it would extremely unlikely for any of these matches to go the way of the underdog.
However if the lower ranked nation does actually cause an upset the points exchange can only be the maximum of +/- 3.00. This has only occurred once in 252 eligible International matches e.g. Great Britain upset Ireland in April 2013. (Rating gap +/- 11.26)
The Ranking Scheme predicts that the higher ranked nation will win more often than not and as WFN World Rankings are calculated using a 'Points Exchange' system, in which sides take points off each other based on the match result. Whatever one side gains, the other loses.
The two matches where the Rating gap is less than +/-10.00 are South Africa (6th: 49.03 rating points) v Pakistan (debutant: 40.00) and Canada v China. The rate exchange for the Lions v Shaheens match is +/_ 0.29 rating points which has South Africa creeping an itsy bitsy bit closer to Nauru and the Shaheens slipping to 39.71 rating points but as they are provisionally ranked only, no change in rank occurs for them.
In the event of a Canada (13th: 37.08 rating points) win over China (17th : 34.36 rating points) the rate exchange is +/_ 2.18 rating points which will see Canada creep closer to Fiji but would see China fall one place below Germany to 18th place. If either/or Canada and South Africa were to win by more than 40 points the effect on the Rankings would be the same tho the rate exchanges would be slightly greater.
However if China were to upset Canada the rate exchange would be the maximum +/- 3.00 which would have China leap up to 13th and Canada falling to 18th , in effect, a swap of places.
Round 2
Round 2 is much more exciting as all but 3 matches will see rate exchanges take place with as many as 13 nations rising or falling in Rank.
"Tune in for the next exciting episode" on Tuesday 12th August to check out the various permutations!!