IC14 Vignettes - Luke Savere Jr (Papua New Guinea Mosquitoes)
Wednesday, August 06 2014 @ 02:50 pm ACST
Contributed by: Wesley Hull
Views: 2,266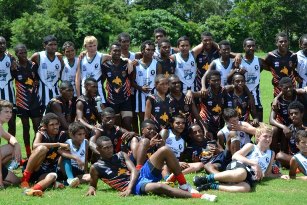 In April last year, Luke Savere Junior was in Cairns. He was playing in the Papua New Guinea Under 16 Binatangs team in a friendly challenge match against Pyramid Power in Gordonvale on his way to Townsville to contest the Oceania Cup with his team mates. (Pictured left in team shot of Binatangs and Pyramid Power players).
Fast forward to August 2014, and Luke is just days away from representing his country again, this time at a senior level at the upcoming International Cup in Melbourne. He is one of a host of young guns upon which the future of Papua New Guinean football will be built.
In the lead up to the IC14 event, Luke was happy to chat about his own football journey and his anticipation of this upcoming showcase if international Australian Rules football.
According to Luke, who comes into the team as a product of the Bomana Cats, "my dad played AFL [locally in PNG] and I watched him every weekend when I was a kid. I started playing AFL when I was seven years old back in 2004, so this is my tenth year of playing AFL."
Luke is almost palpably tingling with excitement at what the next couple of weeks will bring in terms of personal goals and just the excitement of competition against the best Australian Rules footballers from around the world. "I am really excited to be selected into the national team to represent the country. The PNG Mosquitoes team has been always playing in the finals and with the mixture of young and old players, the skills and speed in the team should see that PNG will win this IC14."
Luke certainly has achieved much in the past couple of seasons, almost as if it were a blur. But he is certainly looking at the IC14 event as another step in his own personal football journey: possibly following the lead of fellow PNG protégé, Gideon Simon who made it to Richmond's list. "My goal is to showcase my talent in this AFL carnival and be scouted by Australian clubs."
"I would also like to impart my knowledge to young boys and girls in PNG. My dream is to have a career in AFL. That is my dream if given the opportunity.
Luke has a simple message for his own PNG team for the event. "Stay focused because I know we will win the IC14. Keep in touch [with the opposition at all times] otherwise you will be caught off guard. Otherwise let's play footy and showcase the greatest game of all. I would like to wish all the other international teams all the best in all their games."
The next couple of weeks will see intense pressure as all nations and players strive at their hardest to be crowned as the best Australian Rules football nation outside of Australia. It won't take long for the rest of us to feel their excitement. But Luke is already champing at the bit to get on those playing fields. Having watched his and his team mates decimate my own team back in 2013, I know Luke has the talents to go a long way.
We wish Luke, and his fellow Papua New Guinea Mosquitoes team mates, all the best for this year's International Cup.