Croatia to take on Netherlands in Dalmatian friendly
Thursday, July 24 2014 @ 01:46 pm ACST
Contributed by: Aaron Richard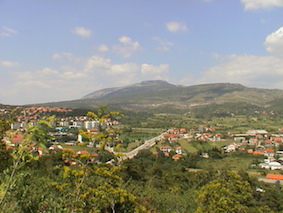 On 2 August 2014 the small town of Drniš in Dalmatia, Croatia, will play host to a friendly match between Croatia and the Netherlands, a reply of the 2010 Euro Cup final.
With the Croatian Knights unable to attend this year's International Cup, the match will be a chance for the national team to prepare for this year's Euro Cup.
The Drniš town council is excited to see footy for the first time and host an international match, providing transportation, field, dinner and a tour to the nearby national park.
The match will kick off at 6pm. During the game, funds will be raised for parts of Croatia devastated with recent foods. All are welcome to join in the BBQ event after the match.
LEFT: A view of Drniš from a nearby hill.