IC14 Preview: Young Lions stalk top four
Wednesday, July 23 2014 @ 08:21 pm ACST
Contributed by: Brett Northey
Views: 3,047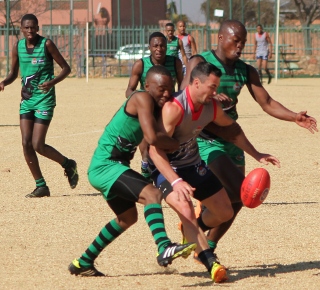 The South African Lions finished 11th in 2002, 8th in 2005 and roared up to 3rd in 2008. Their goal in 2011 was to make the Grand Final but they dropped to 5th.  2014 sees them return to Australia with only a few experienced campaigners and some very young talent.  Their goal - make the top four and from there have a crack at winning the tournament.
Traditionally the South Africans have played a fast, attacking, but at times chaotic style.  A lack of regular club matches has probably deprived them of the chance to consistently experience pressure football every week for a long season, and to practice structured play under real match pressure.  But their academy program and the first steps towards a national league are addressing these issues so it will be interesting to see whether the Lions can return to the top four and challenge the best the rest of the world has to offer.

When asked about the likely style the Lions will bring, AFL South Africa National Operations and Local Partnership Manager July Machethe explained "To play entertaining and competitive footy in all of our games".
The Country and Australian Football

The Republic of South Africa is known as the Rainbow Nation as it integrates so much of the cultural spectrum. Estimates vary, but the population is around 51 million and it is steadily, though too slowly for some, building up the standard of living after years of repression. Australian football got its start in South Africa in the 1990s, but then did it tough for some time. But building up to IC08 it became the number one focus for international development, with its relatively cheap costs, abundant population without access to organised sport, and various synergies with business investment. With extra AFL support and a genuine grassroots movement the sport began to flourish.
The game has been branded FootyWILD and grew rapidly in numbers, but over the last few years there has been an effort to consolidate and growth has slowed. But 2011 saw a drop of two spots in their International Cup finishing position and it's also been unclear whether AFL support has been steady or declined.  With the rise of international rookies from South Pacific nations and none currently from South Africa one can imagine that there's pressure building to produce some potential AFL talent soon.
A focus has been talent identification and this year's team has been selected from a group that have had dedicated training as an elite squad, starting with a list of 55 in 2011 that has been steadily trimmed.

July Machethe explains, "The Squad has 13 players from last International Cup, with 15 players making their debut for SA Lions. The squad contains 5 players Under 19 with our youngest player being 16 that have come through our development system".
"The players have all been involved (in) the local competitions as well as in the new footyWILD Premier League which is a national competition of 8 clubs. Refer to team list for the names of clubs".

Strengths and Weaknesses
Although very competitive at the last two International Cups, three key weaknesses preventing the Lions from advancing to the Grand Final have been lack of height in key positions and ruck, lack of a structured game and skill errors under pressure.  We can expect to see some or all of these areas addressed in 2014.
With the above mentioned elite academy development the South Africans should have a much more settled game plan than in past Cups, but the squad includes very few players with more than one previous campaign to their credit.  Such veterans as Steven Malinga, Benjamin Motuba and Mtutuzeli Hlomela are absent, with the exception of Motuba being an assistant coach and listed as an emergency.  So Cup experience is down but hopefully the academy has prepared them well, addressing the game plan and skill under pressure issues identified above.  The average age of just under 23 is much the same as last time.
The average height of 180cm is up from 177cm, thanks largely to the inclusion of three players over 190cm, compared with none in 2011.  If these big men can give their onballers an even share of taps to advantage and clunk an occasional mark it, then the Lions could well be on their way back into the top four.


The Road to IC14
July Machethe explained the long road, both to get to Australia and then once touching down.  "There's been over 5 camps since 2011 which players participated in and we will be camping in South Australia, Jamestown from the 1st – 6th August 2014 including practice matches against Jamestown Peterborough FC & Aboriginal Youth Academy Team.  The Jamestown camp was facilitated by Joel Kelly whom is our former Operations Manager and funded by the Jamestown community under the Jamestown Peterborough Football & Netball Club. They also organised for us to play the match on the 6th at Adelaide against the Aboriginal Youth Team which is part of the South Australia Aboriginal Sports Training Academy".

Players to watch

We're told that players to look out for are Tshoboko Moagi No 20 (pictured below), Atang Moshoeshoe No 2 (17 years old ), Vuyislie Sokoyi No 2 (17 years old), Msizi Mkhize No 19 (18 years old), Asanda Funda no 10 (Captain), Thabiso Phakedi No 8, Marco Mongia No 11 (pictured above) and Tshukudu Moagi No 21.  Former GWS Giants rookie Bayanda Sobetwa also returns.

Form Guide and Bottom Line

After a meteoric rise the South Africans dropped back a peg at IC11.  It's time for the investment and the hard work of the locals to yield at least a top four finish again, maybe better. But then again the teams above them have not been standing still either, with PNG and New Zealand continuing to develop and Ireland with a core group hardened by living and playing in Australia for several years now.
The extra height may be a key to a rise up the ladder but we don't yet know the quality of their talls.  The Lions start with new-comers Pakistan then play the tough Tongans before clashing with one of the favourites in PNG.  It's hard to see them winning that final match, and the likely outcome of the other pools is that there will be 3 teams undefeated (Ireland, New Zealand and PNG), so to snare the fourth semi-final spot the Lions would need to defeat Tonga and have the highest percentage of all other teams that go 2 wins 1 loss.  To achive that they may have to beat Pakistan by as much as 150 plus points.  With all due respect to Pakistan, the history of new nations suggests this is possible unless the Shaheens have unearthed some players with Australian experience (we look forward to their preview!).
Overall, expect to see an improved South Africa but top 4 may be just beyond their grasp, in which case they should be favoured to take out Division 1 (the AFL's slightly odd description for teams that are ranked 5th to 12th after round 3).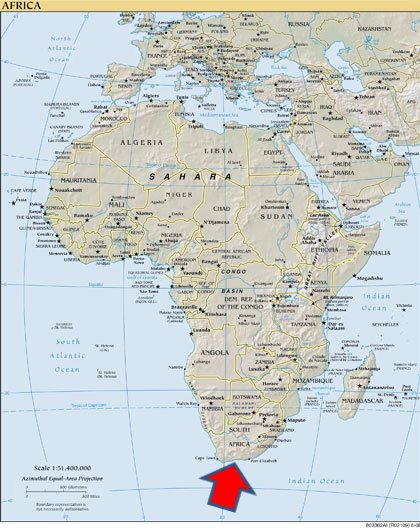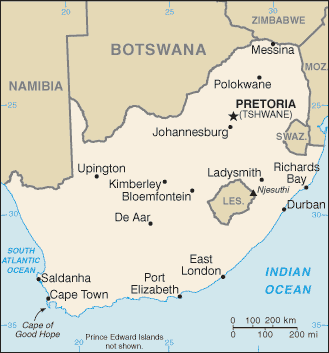 Head Coach: Wayne Miller - Assistant Coach: Benjamin Motuba Team Manager: Phindile Khambule
AFLSA Board: Reginald Mokotedi, Tonie Prins, Cornelius Roodt
 Support Team
 July Machethe - Kabelo Seoka – Sikhona Vezi – Peter Augustin – Cleopatra Figlan - Benjamin Miller
| | | | | | | |
| --- | --- | --- | --- | --- | --- | --- |
| No. | Given Name | Surname | DOB | Height CM | Weight KG | Local Club |
| 1 | VUYISILE | SOKOYI | 1996-08-28 | 167 | 65 | BLUE BIRDS |
| 2 | ATANG | MOSHOESHOE | 1996-11-09 | 176 | 69 | BLUE BIRDS |
| 4 | AKHOLIWE | FIGLAN | 1995-06-12 | 178 | 65 | BLUE BIRDS |
| 5 | KARABO ASHLEY | MAROKOANE | 1991-12-23 | 175 | 68 | PLATINUM BUFFALOES |
| 6 | KHWEZI AUBREY | VELELE | 1997-09-22 | 179 | 73 | BLUE BIRDS |
| 7 | AYABULELWA HAROLD | MPHOTYE | 1992-02-25 | 174 | 75 | REAL DIVINES |
| 8 | THABISO RICHARDS | PHAKEDI | 1990-02-22 | 172 | 76 | WARRIORS |
| 9 | ASANDA (C) | FUNDA | 1989-04-10 | 174 | 66 | REAL DIVINES |
| 10 | STEVEN RANCHANE | MATSHANE | 1988-04-02 | 175 | 69 | WILD CATS |
| 11 | MARCO | MONGIA | 1991-04-12 | 171 | 78 | PLATINUM BUFFALOES |
| 12 | ZOLANI | NYIKI | 1991-03-24 | 176 | 70 | REAL DIVINES |
| 13 | LUCKY | TYWAKU | 1989-02-03 | 189 | 79 | BLUE BIRDS |
| 14 | MONTHUSETSI TSHEPISO | MOGAPI | 1991-02-28 | 172 | 61 | WARRIORS |
| 15 | SIVUYILE | PANI | 1993-09-16 | 185 | 71 | REAL DIVINES |
| 17 | KHAYALETHU YANDISA | SIKITI | 1985-04-06 | 174 | 82 | BLUE BIRDS |
| 18 | OBAKENG PRENNEL | PONI | 1989-06-04 | 174 | 60 | WILD CATS |
| 19 | MSIZI THEMBA | MKHIZE | 1996-01-07 | 186 | 78 | HURRICANES |
| 20 | TSHOBOKO JOHNVISS (VC) | MOAGI | 1990-08-12 | 174 | 79 | SUPER OWLS |
| 21 | TSHUKUDU GLADMORE | MOAGI | 1991-10-16 | 182 | 82 | WARRIORS |
| 22 | THANDO | DLAMINI | 1992-01-10 | 172 | 74 | SUPER OWLS |
| 23 | BAYANDA | SOBETWA | 1990-03-13 | 183 | 77 | REAL DIVINES |
| 24 | CAMERON | DALY | 1992-08-15 | 187 | 97 | PLATINUM BUFFALOES |
| 25 | ANDRIES STEFANUS JOHANNES | DE WET | 1992-02-17 | 179 | 91 | PLATINUM BUFFALOES |
| 26 | THEMBINKOSI ELLIAS | ZWANE | 1989-08-27 | 186 | 76 | HURRICANES |
| 27 | JACQUES | TERBLANCHE | 1993-05-05 | 185 | 97 | PLATINUM BUFFALOES |
| 28 | MALIBONGWE | MLAMLI | 1988-01-05 | 198 | 88 | REAL DIVINES |
| 29 | JURIE HENDRIK WYNAND | WESSELS | 1991-08-06 | 196 | 96 | PLATINUM BUFFALOES |
| 30 | CORNE | DUVENAGE | 1992-02-11 | 194 | 103 | PLATINUM BUFFALOES |
| 3 * | IAN MFANELO | MTHIMKHULU | 1985-10-10 | 171 | 65 | GIANT BEES |
| 16 * | TEFO BENJAMIN | MOTUBA | 1984-05-12 | 171 | 79 | PLATINUM BUFFALOES |
 *Emergencies