IC14 Preview: Japan Samurai bring youth and experience
Tuesday, July 29 2014 @ 10:03 am ACST
Contributed by: Cam Homes
Views: 2,784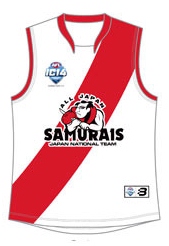 Japan is an island nation in East Asia comprising a stratovolcanic archipelago extending along the Pacific coast of Asia. It lies between 24° to 46° north latitude and from 123° to 146° east longitude.
There are four major islands, sometimes called the "Home Islands", (from north to south) Hokkaidō, Honshū (the "mainland"), Shikoku and Kyūshū. There are also 2,456 islands, including Okinawa, some inhabited and others uninhabited. In total, as of 2006, Japan's territory is 377,923.1 km2, of which 374,834 km2 is land and 3,091 km2 water. This makes Japan's total area slightly larger than Norway.
Japan has a population of 127,341,000 people, The female population is the greater, with 65,473,758 women, representing 51.41% of the total, compared to 62,087,731 or 48.75% men. Japan has a high population density, with 337 people per square km..
The Country and Australian Football
Japan has the oldest non-English speaking league in the world that kicked off in 1987 following an exhibition match in Tokyo between Essendon and Hawthorn. The oldest club is Senshu Power, a University based team that was one of the foundation teams of Japanese footy. Currently Japan has nine clubs (with another in the process of forming) with matches played in two regional Leagues.  Top League East based in Tokyo has seven teams/clubs, whilst Top League West comprises Osaka Dingoes and Nagoya Redbacks and possible newcomer Hiroshima Hawks.
The Samurai, Japan's national team has a long history, having played at 'international level' since the late 1990's with participation in the Arafura Games in Darwin, Australia. Japan has contested all the International Cups, the best placing being eighth in IC08.
IC14 Squad
The Samurai squad was announced on3rd June 2014, twenty six Top League East players and two players currently playing in Australia have been named along with a management and support staff of seven.
There is an exciting blend of youth and experience in the squad, roughly half having played at IC's before, the most experienced player being Michito Sakaki, suiting up for his 5th International Cup. Yusuke Kuno also has experience aplenty for his 4th IC whilst Masaya Nakamura, Junji Tanaka, Jun Sekiguchi ,Hiroyuki Toyamai and Toshiki Matsuhashi are all playing their third International Cup.
The other IC 'veterans' are Mitsugu Kazawa, Takashi Kamada, Daichi Tanabe, Kumpei Komura, Hisayoshi Oura and Yuki Akita (3rd IC) who is one of the players currently playing in Australia  at Mt. Gambier North, South Australia. Takashi Kamada is also playing in Australia with West Footscray in Melbourne, Victoria.
First timers include Yukihiro Ami, Sohei Yoshida (spent five weeks on scholarship playing at Box Hill North, Victoria recently), Takumi Sato, Yoshharu Sasaki, Takuto Tsuneto, Yusei Hasagawa, Yula Toyoshima, Ryosuke Sato, Kotaku Takasaki, Daiki Kai, Yusuke Matasumoto, Tomokazu Soda, Kohei Sekine,  Yohei Kichiraku and Junpei Ito.
Debutant players to watch
Sohei Yoshida: Great young player from Komazawa University Magpies. Played Volleyball at Junior High School and High School but started playing Footy on entering University.
Kotaku Takasaki: still at High school, also plays Rugby at High School. He started to play footy as he wanted to improve his kicking skills and has shown talent and rapid improvement at footy.
The Full Squad
Senshu Powers: Yoshihara Sasaki, Takumi Sato, Kohei Sekine, Tomokazu Soda, Daichi Tanabe, Takuto Tsuneto and Yusuke Matsumoto.
Tokyo Bay Suns: Yosuke Kuno, Kunpei Komura, Katsuyoshi Shimizu, Junji Tanaka, Hiroyuki Toyama, and Masaya Nakamura.
R246 Lions: Yukihiro Ami, Michito Sasaki, Jun Sekiguchi, Kotaku Takasaki, Yuta Toyoshima and Yusei Hasegawa.
Komazawa Magpies: Hisayoshi Oura, Daiki Kai, Mitsugu Kazawa, Toshiki Matsuhashi and Sohei Yoshida.
Shonan Poseidons: Yohei Kichiraku and Kyosuke Sato.
Management and Support Staff are:
Brett Snowden – Coach
Hideki Miyasaka – Manager
Support Staff – Naoki Ishii – Powers, Ai Shichinohe – R246 Lions, Momoko Yasunga – Magpies, Junpei Ito – Senshu and Tatsuya Tomioka – Magpies.
IC14 Round by Round – Japan Samurai  
Round 1
Papua New Guinea: WR = 3rd:-  Record: 0-2 :-Japan last played Papua New Guinea at IC02 for their 2nd loss to the Mosquitoes the first being at the Arafura Games in 1990. Hideki Miyasake, AFL Japan President believes PNG will be very tough to beat. Five of the IC veterans have been playing together for Tokyo Bay Suns, (last season's premiers) whilst 3 of the 4 Komazawa Magpies are also IC veterans,  these players creating a very experienced core for the team consequently Hideki and Coach Brett Snowden believe this side is stronger than previous Samurai squads. Score: 0-1
Round 2
Pakistan: Not Ranked:- Being a debutant nation to International footy Pakistan are an absolute unknown, although if precedent matters, debutants don't win too many games (exception being Fiji). Pakistan has, however, had a squad playing in Australia for some time now so they could cause an upset or two. Japan is determined to not take them lightly. Score: 1-1
Round 3
Tonga: WR = 9th:- Record 0-0:- Japan's most recent wins are against Fiji IC11 and Samoa and India IC08 the Samoa match was somewhat an upset. Tonga can be compared to Samoa and Fiji in athletic ability and style, so if the Samurai bring their best game into this match then success in this match is very possible. Score: 2-1