IC14 Preview: AFL Fiji Tribe and Vonu
Sunday, July 20 2014 @ 11:28 pm ACST
Contributed by: Dylan Wolfgramm
Views: 3,321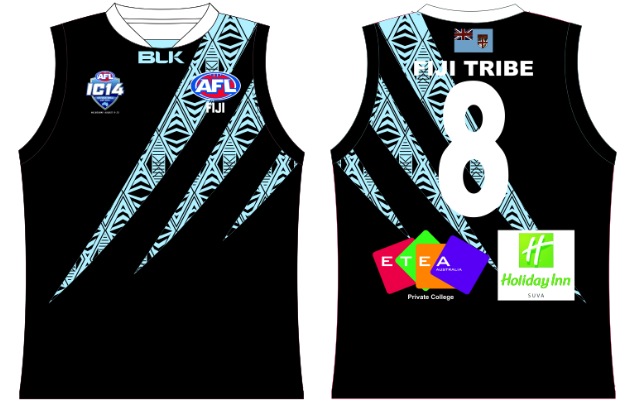 AFL Fiji return to the international arena with the Senior mens team "Fiji Tribe" and their first ever senior womens squad the "Fiji Vonu" looking to fight for a spot in the final of the mens and womens fixture at the 2014 International Cup.
The Fiji Tribe hope to make it one better and take it to the premier squads such as 2011 Premiers Ireland, Pacific neighbours New Zealand and the powerful Papua New Guinea after claiming top spot in Division 2 at IC11.
Fiji Tribe return a more stronger, skillful but most of all experienced side compared to the side which claimed division 2 at IC14. The new look Fiji Tribe in the black and ocean blue strip look set to fire up IC14 and be a very competitive group of young men.
Also featuring for AFL Fiji will be their first ever senior womens side the Fiji Vonu.
The Vonu (turtles) come into IC14 as one of two new sides looking to make an impact. AFL Fiji introduced the women competition for the first time this year and this suited well as a large number of women who started training in 2013 with no real match practice teamed up with new members in 2014 to form two full teams.
The Country and Aussie Rules Football.
 Fiji is an island country in Melanesia in the South Pacific Ocean about 1,100 nautical miles (2,000 km; 1,300 mi) northeast of New Zealand's North Island. Its closest neighbours are Vanuatu to the north-west, New Caledonia to the southwest, Tonga to the south-east, the Samoas and France's Wallis and Futuna to the northeast, and Tuvalu to the north. It is a well known tourist destination for thousands of Aussies each year.
As well as tourism, Fiji has one of the most developed resource economies in the Pacific due to an abundance of forest, mineral, and fish. Today, the main sources of foreign exchange are its tourist industry and sugar exports. 
Fiji is widely known for producing some of the worlds best professional athletes in Rugby, Rugby League and of course Aussie Rules football.
AFL Fiji was formed in 2009 by a group of AFL enthusiasts predominately ex-pats such as the Wolfgramm, Ratu, Loki, and Rodan families, and former AFL South Pacific Development manager Andrew Cadzow.
Since 2009, AFL Fiji has grown and reached new heights in the footy community. From finishing third in Inaugural U16 Oceania Cup 2009 to claiming top spot in 2011, and starting from a small number of 40 participants in 2009 to a whopping 5500 country wide participants in 2013. The code has grown from 3 footy clinics a week in the capital Suva to conducting footy clinics all around the country with the assistance of an AUSAID grant and the cooperation of the Fiji National Sports Commission.
AFL Fiji also has a team of great Ambassadors who play at the elite level in Australia such as West Coast Eagles Football Club and AFL superstar Nic Naitanui, and Port Adelaide Football Club superstar Alipate Carlisle.
IC14 Round by Round - Fiji Tribe
Round 1 : Ireland v Fiji Tribe - The Tribe's biggest international game to date. Coming up against the heavy favourites and IC11 reigning premiers Ireland in round 1 is not how they may have wanted to start the tournament, but it is one they will take as a challenge and a measure of where they stand. But as they say, never underestimate the under-dog tag. The Tribe are never to be written off and will make this game a contest. The Irish will have a greater range of experience, skill and kilometeres in the legs and should win this quite easily.
Where it can be won : The Tribe will need to make it contest after contest, their big bodies and physicality will no doubt damage the Irish. Convert every chance they get. 
Round 2 : Fiji Tribe v Indonesia - Fiji should come out on top. A great game to test their structures, skills and game plan. Will need to get on top early and take control, Indonesia are a strong team and with a number of Melbourne based players, should be a great contest and game of football.
Where it can be won : Sheer pressure around the ball and contest. Power and strength should get them on top.
Community Round 3 : Great Britain v Fiji Tribe - In order for the Tribe to make the final 4, they will need to win this match. likely to be the game of the round.  Two hard teams producing a great contest. 
Where it can be won : Once again, the pressure around the ball is needed for four quarters.
The British have similiar set of skills, physical pressure but more experience. The Tribe can win this with four quarter defensive pressure and keep the Brits below 10 goals and counter on the score board.
 Strengths & Weakness
Strengths
1. Physical presence - Teams won't want to come up against the hard hitting Fijians
2. Speed - Fijians are known for their speed, so expect a fast pace game.
3. Experience - With majority players having represented Fiji before, the experience levels will show and help.
Weakness
1. Rules Knowledge -  Expect a lot of free kicks given against the Tribe.
2. Skills - Have improved dramatically but can let them down in under pressure moments.
3. Discipline - Can get hot heads very quickly and can let them down by giving away silly fee kicks.
Players To Watch
Fiji Vonu
1. Litia Matanisigadrau (Midfield) - Vice Captain of the pioneering women's team. Litia has pace and a good skill set.
2. Shelly Fong (Midfield) - Fittest in the squad, very solid and can rove the ball all over the field. Looks to lead the team with her hard hits and strong right foot.
3. Arieta 'Dee' Delasau (Centre Half Back) - She has a great pair of hands, a good kick, and reads the play well. Look for her to tear up the half back line and generate the forward attack.
Special mention - Halamehi Tuilomani is the first Fijian women to play with a disability in any Fijian national sports Team. Another great rover with a big engine. Does not hold back and has a great skill set.
Fiji Tribe 
1. Juita Vateitei (Rover) - An original foundation member of AFL in Fiji. Started in 2009 with the first Fijian national team in the U16 Oceania Cup. Great experience, skills, fitness and hardworker. 
2. Mesake Koroi (Forward) - Leading goal kicker for AFL Fiji at IC14 and was the Best and Fairest in the Division 2 Grand Final. Great pair of hands, a strong right and left foot and has a great jump. Will aim to kick a bag every game.
3. Atunaisa Lewanavanua (Ruck) - Strong player with great experience. Another member of the IC11 Fiji team. Strong leap, hands and kick. Watch him to push forward and sneak a few.
Special Mention - Yabaki Gade has been a part of AFL Fiji since the inclusion of the sport in Fiji. He will make his long awaited debut against the Irish as a senior player and will hopefully dominate the game. 
Conclusion 
Fiji teams have willing players - no doubt about that - and are not scared of the physical presence of the larger players who will dominate the opposing teams they will meet. The cold winter conditions however will test their fitness and endurance and may make them susceptible to injury. With only a few exceptions, none have travelled outside Fiji to cold climates before. But what they lack in experience, they will make up for in enthusiasm. Each player has sacrificed at home raising the $2000 out of their pockets to participate in what for them is a new code. And more, they intend to earn the respect of those they meet as well as their Australian hosts. If their preparation is anything to go by, they will give their international opponents and the public of Australia every last cent of their commitment at IC14. Stand by for some entertaining footy - and perhaps even some upsets.