IC14 Preview: The French Coqs
Monday, July 28 2014 @ 09:54 pm ACST
Contributed by: Olivier Tresca
Views: 2,729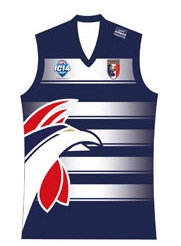 After a successful 2013-2014 season the French Coqs are returning to Australia to take part in their second IC. The team is eager to build on their great results in last year's Axios Euro Cup, where they finished in second place.
In 2011, the Coqs impressed the crowds with their performances on and off the field, finishing second of Division 2 and by introducing the world to a very unique celebration. They will no doubt try to improve their luck this year.
The country and footy
Although some games have been played by ANZAC soldier during WW1, Australian football in France only took off in the late 2000's. After a brief stint in the 90's in Paris and Normandy, the first established team started to appear around 2005 with the creation of the Strasbourg Kangouroux. This was followed by teams in the southern half of France a few laters and the first official competition was held in 2008. Since then footy in France has steadily grown and now boasts 7 well established teams peppered throughout the country. In the last couple of years women teams have also made their apparition but they won't be travelling to Australia just yet.
On the international scene, France has been present to most of the major European competitions since the 2005 Euro Cup in London and have enjoy many great success. The last in date, finishing second of the 2013 Axios Euro Cup at home in Bordeaux. The team first travelled to the Australia for the IC11 where they had an impressive run in Division 2 culminating with a second place.
As a testament to the progress of the domestic competition, all the french clubs will be represented in this year IC squad, with only 6 players honing their skills overseas (2 Aus, 2 Canada, 1 USA, 1 England). In addition, a sizeable number of players took part in the previous edition of the IC and will no doubt share their experience with the newcomers.
Strength and weaknesses
France faces a tough start to the competition. They will first face the GB Bulldogs, and then the Irish Warriors. They hope to carry the momentum of their great results at last year Euro cup. They will also rely on the expert advice of Richmond Tiger's player, Daniel Jackson who got involved with French footy after the IC11.
The cohesion and passion that the French players display on and off the field will no doubt be their greatest assets, and although they are not ready to take on the big teams just yet, they have the potential to create some major upsets.
Players to watch
Midfielders Alban Scheiber and Joevin L'Hotellier, who have been very impressive in recent years during the Euro Cups.
Gregoire Patacq, the towering team captain, who will be returning for his second IC.
2013 AFL Quebec All Star Clement Coste, who will be put to the test in the ruck.
Squad :
ALLIOT-MARTY Yoann
BARBARIA Yvan
BARRANCO Kévin
BERNAD Anthony
CANONICI Jérôme
CASSAVETTI Stephen
COCHET Thomas
COSTE Clément
DANDALEIX Pierre-Etienne
DAVID Adrien
DENERF Jérôme
DEPONDT Thomas
GIL Julien
LABIGANG Pierre-Jacques
L'HOTELLIER Joévin
MARTINEZ Emilien
MAYLIE Sylvain
MENDOZA Valentin
MONDIN Simon
PATACQ Grégoire
PICARD Thibault
RAMDANI Amine
ROSADO Jean
SCHIEBER Alban
TAPIA William
TIEFENBACH Henri
UBEDA Raphaël
VIDAL Florian