IC14 Preview: Banshees looking for back to back result
Friday, July 18 2014 @ 10:07 pm ACST
Contributed by: Leiha Shrubsall
Views: 2,524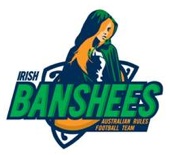 The Irish Banshees are the defending International Cup Women's Division Champions. In 2011 they defeated allcomers including Canada in the Grand Final.  Their squad was made up of players from Ireland but also a heavy contingent of Irish players who had been playing in Sydney.
There are almost 2 million people living in Australia who have Irish ancestry according to the 2001 Census, and approximately 250,000 Irish Citizens living in Australia. Australians with Irish ancestry form the second largest migrant group after the 6.3m people with English ancestry.
With strong ties like this, it is no wonder the Banshees will again be right at home when they visit Australia for the IC14, in fact less than half the team are making the long haul journey from Ireland with the rest of the squad already based in either Sydney or Melbourne. Having picked up most players through Australian Gaelic football connections the Banshees already have the building blocks for what will be an impressive line up once again.
 Women's Football in Ireland so far
The Banshees have a strong track record in a short history after winning IC11 taking the title of the strongest women's footy country outside Australia.  The following year 2012 saw the Irish Banshees win the Euro Cup, backing up from winning the 2011 and 2010 competitions.  But they did not send a team to the 2013 competition which was won by the European Crusaders team. 
The Country and Australian football
Ireland is the third-largest island in Europe and the twentieth-largest island in the world. It lies to the northwest of continental Europe and is surrounded by hundreds of islands and islets. The island is divided between the Republic of Ireland, which covers just under five-sixths of the island, and Northern Ireland, a part of the United Kingdom, which covers the remainder and is located in the northeast of the island.
Gaelic football is the most watched sport in Ireland, both girls and boys playing the game as they grow up. Ladies Gaelic football has some slight rules changes but the aim remains the same, to score goals through the H shaped goal posts. Many Australians see a variation of the game played every year as the International Cup Series takes place.
Since 1967 there have been many matches between Australian Rules football teams (mainly from Australia) and Gaelic football teams (mainly from Ireland), under various sets of hybrid, compromise rules known as International rules football. These were part of the official International Rules Series, which attracted large crowds and media interest in Ireland and Australia.
In 2007 the international rules series was abandoned because of the aggression and the severity of the Australian team in the previous year, but in 2008, under new rules to protect the player with the ball, it resumed in Australia.  It has since continued somewhat disjointedly with an Australian Indigenous team representing Australia in 2013.  In 2014 there will be a one off test match in Australia.
Former and current AFL Irish players Jim Stynes, Setanta and Aisake O'hAilpin, Tadgh Kenelly, Zac Tuohy, Pearce Hanley and Tommy Walsh all come from a Gaelic games background.
Strengths and Weaknesses
The squad will have the styling of a Gaelic football team, speed, agility and aggression all playing parts of Banshees code. It should also be noted that 10 of the IC11 champion side will feature in this squad, that experience proving beneficial when it comes down to playing big matches.  They will again be captained by Aimee Louise Hazley  
With only 11 Irish based players flying in for the tournament the balance of Irish players are from clubs around Sydney and Melbourne who will be joining the squad and who have acclimatised to the game and picked up a far bit of skill.  The Banshees have a mix of coaches, assistants and managers on the ground in Melbourne ready to help us out where needed.   
Women have only been a part of ARFLI since September 2009 so will have played fewer matches than some of their opposition such as the US and Canada.  Marie Keating who played such a significant part in the IC11 tournament will not be playing for Ireland this time around.  As the reigning champions their will be no doubt who everyone else will be aiming to beat.
Claire Cunningham has only just pulled out of the squad as she is relocating to Ireland and will not be here for the competition. Claire currently captains the North Geelong football team who are currently on top of the ladder this season. Claire was a part of the IC2011 Banshees and will be missed but we will hopefully see her at the Euro Cup later this year. Melbourne based Oonagh McAnespy will take Claire's place in the team.
The Banshees also have a mix of coaches, assistants and managers on the ground in Melbourne ready to help us out where needed. Andrew Hickey will not coach the group this time round but the identity of the '"top notch coach" lined up to take the group to another level is at this stage a secret to be revealed at a later date.
The team lists four IC11 world team' players who will return to play in their second tournament, these are: Emma Kelly, Gillian Behan, Louise Loughlin and Laura Corrigan.
IC2014 BANSHEES SQUAD:
| | |
| --- | --- |
| 1 | Aimee Louise Hazley |
| 2 | Eva Mackin |
| 3 | Paula Keatley |
| 4 | Kate Leahy |
| 5 | Leiha Shrubsall |
| 6 | Emma Kelly |
| 7 | Fiona Roarty |
| 8 | Carolann Cass |
| 9 | Deirdre Ni Chearbhaill |
| 10 | Catilin Ni Chianain |
| 11 | Louise Loughlin |
| 12 | Laura Corrigan |
| 13 | Regina Curtain |
| 14 | Elaine O'Reilly |
| 15 | Clair Mahony |
| 16 | Carol McGahon |
| 17 | Dervla Murta |
| 18 | Maeve Brogan |
| 19 | Catherine Collins |
| 20 | Oonagh McAspney |
| 21 | Una McKay |
| 22 | Sandra Ryan |
| 23 | Christine McCutcheon |
| 24 | Gillian Behan |
| 25 | Emma Treanor |
| 26 | Alice McGahon |
| 27 | Sarah Rafferty |
| 28 | Rachel McCann |
 Players to watch:
 1. Regina Curtin: Regina is a multiple 'All Ireland Senior Football championship' holder 2005 - 2007 and also achieved an 'All Ireland Camogie League title' in 2012.
County: Cork and currently in Koroit, Victoria
Clubs: Milford Senior Camoige Club and Donoughmore Senior Ladies Football Club
Jersey Number: 10
Position: Midfield, forward
Why Play: Love sport, love playing ball, love the team spirit and friendships you make
Aims for IC2014: Be competitive, train hard, win matches
Best Sporting Memory: Winning the All Ireland club camogie Championship with Milford (Cork).
2. Laura Corrigan: Laura competed in the IC2011 tournament, she plays in the VWFL premier league division for Diamond Creek, a team that took the cup home in 2012.
Laura was also selected for the IC2011 World team.
Name: Laura Corrigan
From: Cavan Ireland/Greensborough Vic
Team: Diamond Creek
Jersey number: 1
Position: Ruck/ wing
Why and when I started playing: 2008 as I had always been told I was too rough in Gaelic so I thought Aussie Rules was the game for me.
Expectations for IC: To go back to back.
Best footy memory: Winning the last IC and being named in the top 3 players of the tournament.
3. Cáitlín Ní Chíanáin: Cáitlín plays for the Dublin Angels and holds two Euro Cup titles.
From: Cavan, Ireland
Team: Dublin Angels
Jersey number: 33
Position: Centre
Why and when I started playing: In 2010/2011 I came back from a year in Australia and fancied a go at the game having not tried it there.
Expectations for IC: To grow as a player and ideally bring home some silver wear.
Best footy memory: Beating Switzerland in Euro Cup in Belfast, 2011.
4. Sandra Ryan: Sandra competed in the IC2011 tournament, has represented NSW at state level and she currently plays for the UTS Shamrocks in Sydney.
Name: Sandra Ryan
From: Tipperary
Team: UTS Shamrocks
Jersey number: 10
Position: Wing or half forward flank
Why and when I started playing: Living in Sydney, I got introduced to the game when I played the International rules competition. 
Expectations for IC: If it's anything like IC11 I'm expecting a lot. It was an amazing experience, shared with amazing people. 
Best footy memory: It goes without saying the IC11 but also winning the Div 2 State Nationals with NSW. Both were in 2011 so the whole year was a blast
5. Clair 'Glam' O'Mahony: Clair currently plays Gaelic footy for Sinn Fein, winners of 2014 club competition last weekend. She is also a 2 time 'All Ireland Championship' title holder.
Name: Clair "Glam" O'Mahony
From: Cork / Melbourne 
Team: Sinn Fein Ladies Melbourne
Jersey number:17
Position: forward 
Why and when I started playing: to appreciate what a really great sport it is, develop some new skills 
Expectations for IC: To win #gohardorgohome /make new friends 
Best footy memory: Winning two all-Ireland medals back to back with Cork Seniors Bs in 2008&2009.
Form Guide and Bottom Line
The form line is as good as you could ask for and it will take a mammoth effort for one of the other teams to wrest the title from the Banshees grip.