A footy holiday to Vanuatu - Part 3 - Footy ni Vanuatu style and umpiring up a sweat


Having settled into Vanuatu as a tropical island paradise - it's Saturday morning footy time. Normally for me this is Auskick in suburban Melbourne. This Saturday it's a tad bit different; Vanuatu; tropical humidity; land crab holes; and I'll be umpiring today.
This is the third instalment of a Vanuatu travel diary/footy pilgrimage. Part of the objective of this series is to highlight footy on our door step in a country that anyone can justify visiting along with their whole family, or club. In A footy holiday to Vanuatu - Part 1 - boots and footys my family and I arrived with a bit of extra baggage and in A footy holiday to Vanuatu - Part 2 - Kazza field and those pesky crab holes we made our way to Kazza field - spotting familiar goal posts in unfamiliar territory.
The pre game warm up at Kazza field is low key. Players arrive progressively and Nancy "Patto" Patterson is busy getting equipment out of the onsite shipping container. It's exam time so as Robin Jacob explained to me his 3 sisters wouldn't be there today. Nonetheless - looking around and seeing kids having a kick of the footy in a park is a familiar and comforting sight. Seeing my kids joining in just adds to it. The 'jungle' backdrop is not quite as wild as it may once have been - with houses on the ridge line.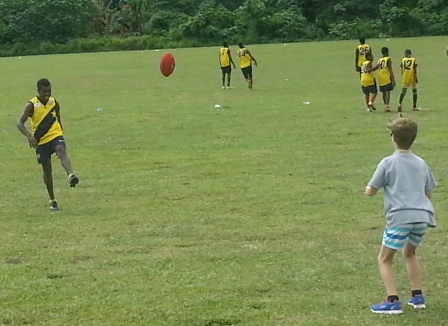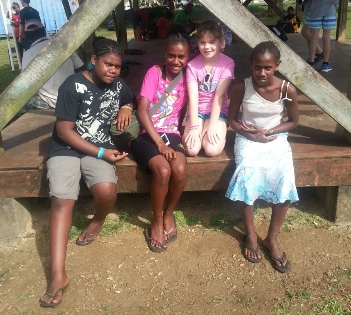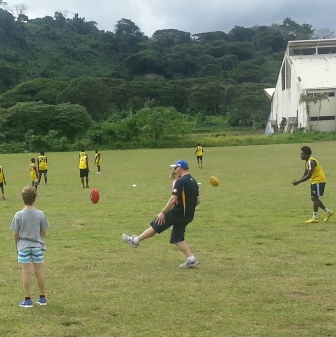 Above left Jesse and Darcy have a kick; centre Lucy with some new friends; right - a warm up kick for the umpy.
I wasn't sure what I might be able to help with - turns out umpiring the game. No worries - done a couple of Amo's ressies matches and umpire the 30 minute Auskick match each week. It rapidly becomes a family affair - with my sons goal umpiring, daughter scoring and wife acting as medic.
Not being totally sure what to expect - the match of the day between Mele and Erakor finally gets underway after the central umpire stops chewing off new AYAD appointee Blair Mortimer. First bounce...okay....I tossed it up, not that I can bounce anyway but I reckon the crab holes prescribe a slightly more conservative approach anyway. Game under way and there are clear standout players. With a range of ages from younger kids to older youths. The first generation of Vanuatu Volcanoes who trekked to Tonga and Fiji 3 or 4 years ago are the elder statesmen of the competition. There are some nice skills on display amongst these in particular. Those newer to the game have a strong soccer background and while I hadn't made a point of applying a no kicking off the ground rule I somehow wish I had - the danger of it is one thing, and Auskick in particular uses this rule - but also as a shower or two swept across Kazza field (much to my relief as the humidity starts to take effect) the propensity to attempt to kick the ball off the ground rather than taking possession often backfired when the ball was missed and the kicker found themselves overrunning and out of position.
As the game progressed Erakor took control. Alas for Mele, Robin Jacob was hobbled by one of those kicks off the ground that was somewhat crude and collected him in the back of the calf. There was a bit of heat in the game in the third quarter and I wondered whether I might be facing a bit of a cultural challenge. Alas my wife was required to assist a Mele lad who had been punched in the eye behind the play - but Mele down one more player. Things managed to settle down and soon the last quarter was underway. Mele fought it out and managed a good consolation goal. Erakor though running out comfortable victors.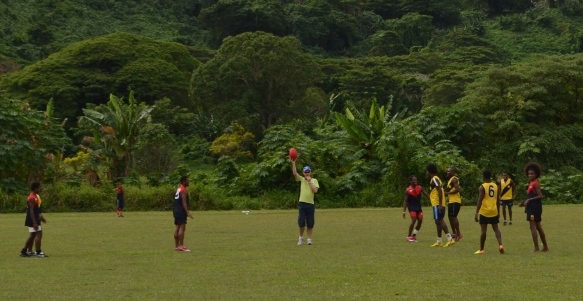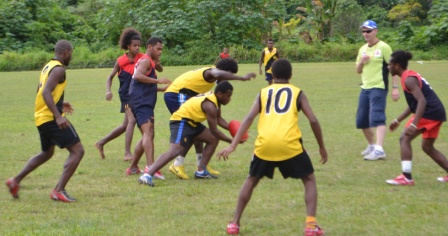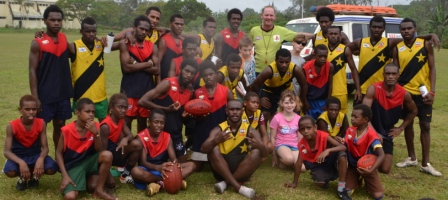 Above left first bounce; centre match action Erakor in yellow; right - post match.
End result included one pretty well stuffed umpy. However - with training to take on Monday evening I head back to our accommodation at Iririki Island Resort and jot down some training ideas. Last night I hadn't managed to stay awake to watch the Carlton narrow loss to Geelong. Tonight I'll manage to watch a bit more footy. How harsh is that - the satellite tv from Australia - getting to watch the footy and keep up on business offerings in the NT and outback QLD and the upcoming round of country 'Shows' (Mt Isa and Townsville across the last two weekends in June). But not until after Saturday night dinner at Micheners followed by the fire dancers show.
Next - Sunset Sunday special and Monday training run - then the Mele cascades - not a bad recovery session.