A footy holiday to Vanuatu - Part 1 - boots and footys
Friday, June 20 2014 @ 11:01 pm ACST
Contributed by: Michael Christiansen

It's not uncommon for Australians - especially those south of the Murrumbidgee - to take a winter holiday to sunnier tropical locations and so it was the plan for my family to head to sunny Vanuatu across the first week or so of June. Of course one of my sons would pack a footy. Nothing too strange there. Perhaps what was more strange was a couple of bags containing 40+ pairs of donated footy boots and a couple of plastic wrapped brand new sherrin match footys.
(AFL) Vanuatu here we come! The following is in part tropical paradise travel diary and in part a WFN inspired footy pilgrimage.
Vanuatu is comprised of 83 islands of which about three quarters are inhabited. Port Vila is the capital and largest city and situated on Efate Island. The total population is over a quarter of a million of which a little over a quarter of whom live on Efate and most of those in Port Vila. Until 1980 Vanuatu was commonly known as the "New Hebrides", and for history buffs especially with respect to World War II; the New Hebrides were critically important to the Allies as the Japanese forces moved into the Bismarck and Solomon Islands and Papua New Guinea.
Colonized by the British and French; independence was gained by 1980. However, there are clear reminders of the dual colonial past including previously French and British jails - as summarised here by the Vanuatu Tourism guide : Vanuatu became a country governed by two countries, French and British each with its' own set of government and laws. Two police services, two health services, two education systems, two currencies, two passports and two jails. It is said the British law was stricter but its jails were more humane and the French jails were uncomfortable yet had better food. To date there is still the two jails operating.. .
There is a legend too about how the French won the right to dictate the side of the road upon which to drive. And so to today they drive on the right. Also, many of the streets are referred to on the maps by the prefix 'Rue'.
The French culinary influence is one to be celebrated by discerning tourists.
June in Vanuatu is part of the driest season of winter but humidity remains high and temperatures generally in the mid to high 20s and often not dropping below 20 during the evening. It takes a little getting used to. And the realisation soon arrives that 'Island time' is a necessity. Rushing around becomes counterproductive. Umpiring a game of footy becomes very challenging.
Australian Footy in Vanuatu was in the early days dominated by expats as a social activity. It's only really been over the last 10 years that it's evolved seriously for the locals - the Ni Vanuatu. Justin Johnson tells of the 2006 - 2010 time frame here . Forming AFL Vanuatu was important and as we reported in December 2010 the Oceania Cup in Tonga saw 5 young players from Vanuatu take the first steps on the international stage.

Above - the first 5 AFL Vanuatu reps on the international stage back in 2010 - Robin Jacob at right was the first player I spoke to on Saturday.
12 months on and the first ever full national side - the Vanuatu Volcanoes jetted to Fiji and competed stand alone. The on field challenges were great enough but WFN reported the experience was greater than that represented by merely the match results. Coached by Mal Thiel - "Mister Mal" - who, along with his family, has played a big part in the early evolution of AFL Vanuatu thus far and been a regular contact for WFN.
And so here I was and I'd managed to nudge Vanuatu as a destination to front of mind and finally with a confirmed family holiday to Vanuatu - for me it could not be contemplated without trying to catch some AFL Vanuatu action. And along the way I figured I'd try to get a few mates at my footy club (Melbourne Masters SuperRules) to chip in to take a couple of footys or a couple of pairs of new boots. As it turned out - my children's school - Findon Primary - had 2 boxes of footy boots that were too big for Primary School students. Suddenly we were heading out with 40 odd pairs (not 'odd pairs') of new footy boots. Rebel at South Morang obliged with some cost price match Sherrins. Given we were flying out on a Thursday night and due to arrive in the early hours of Friday morning at Bauerfield International Airport in Port Vila - I figured I'd best ensure there would be no customs issues. A little of back and forth with Vanuatu Customs and Nancy Jacob at AFL Vanuatu and we got something sorted. In the end - we now know how it could have been done more easily. When arriving 2am local time though (having lost an hour on the direct flight from Melbourne with Air Vanuatu) - I thought it best not to risk a delay at Customs. Our accommodation for the week would be at Iririki Island Resort - a tropical island holiday (See tourism resorts map here). First thing to do - get the right key - and then to bed - can't sleep too long as the breakfast buffet closes at 10am.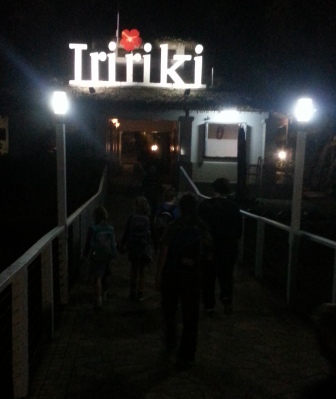 Next - Getting a feel for Port Vila, and my first face to face with AFL Vanuatu on the ground - and about the ground - the crab holes.

Image left : Early morning arrival by 24 hr ferry to the jetty at Iririki Island. A coolish evening by local standards and balmy for Victorians.

Comments (0)
---
World Footy News
http://www.worldfootynews.com/article.php/20140613200749477