Vanuatu's Kilip Andrew settles in for Olinda Ferny Creek


In 2013 the Olinda Ferny Creek footy team from the Dandenongs region east of Melbourne travelled to Vanuatu post season for the perfect end of season trip after slogging it out in the Yarra Valley Mountain District Football League.
This year the hospitality is in part returned with AFL Vanuatu's Kilip Andrew spending a season playing footy Melbourne style – no doubt somewhat removed from the conditions generally enjoyed in the Oceania region.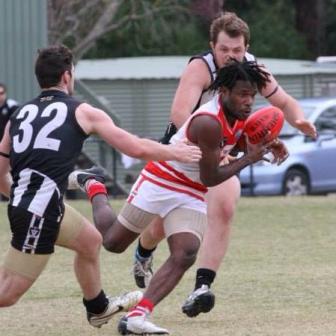 Last weekend Kilip showed he's well and truly coming to grips with the requirements – and kicked 2 of Olinda Ferny Creeks 6 goals (leading scorer on the day) and was named in the best as the OFC reserves went down to the more fancied Belgrave by 37 points.
6 rounds in and the Olinda Ferny Creek reserves are 3-3, sitting 7th on the 10 team table. This week they host bottom side Monbulk (yet to win) for what should be a home win. Ironically in the seniors this is a top of the table clash this week.
So far Kilip has played all 6 matches in the reserves and has been getting better all the time. In Round 3 he managed his first goal and got in the best against Wandin (23 pt loss). Following up with another goal against Warburton Millgrove in Round 4 (15 pt loss). Since then, a 3 goal effort against Emerald (19 pt win) and last weeks 2 goals against Belgrave – again both times list in the best.
Given the form of the senior side – there will be no easy senior games for Kilip but right at the moment he has put himself in contention. Good luck for the rest of the season.
As per the link in the introduction - it's worth reviewing the Olinda Ferny Creek FNC (football/netball club) trip to Vanuatu last September. In a great template for other community clubs - 42 footballers, netballers and support staff spent a week including volunteer activities to help grow and promote the two games. OFC club president Helen Wositzky described the benefits of personal growth and development for those on the trip. Conducting clinics for hundreds of children/youth helped expose the lack of facilities and resources available. But never was there a lack of happiness and enthusiasm.
In Vanuatu footy tradition - the pre match routine before the OFC v Vanuatu Volcanoes match - included all OFC squad members involved with wheelbarrows and buckets to cart soil all afternoon to fill in the many crab holes. The Volcanoes won by 10 pts. The OFC squad also were able to donate over half a ton of sporting equipment for distribution to schools and associations.
To now see Kilip thriving at OFC this season is a nice example of the links developed and WFN can only encourage other clubs to look at similar opportunities they may become life changing for many throughout the Oceania region.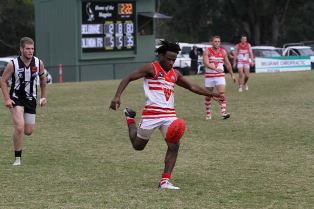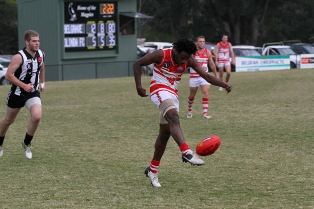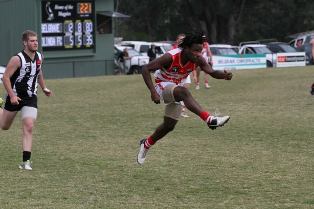 Check out the technique.