AFL New Zealand Name Their Annual Heritage Team
Saturday, May 10 2014 @ 07:49 am ACST
Contributed by: Rod Shaw
Views: 2,022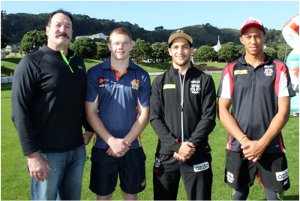 AFLNZ have made their second annual selection of their Heritage team. To be eligible player must be born in New Zealand or have one parent born there. This is more stringent than the one for the NZ national rugby league team which has a handful of Aussie-born players. Anyone looking at the Rugby League world Cup would also see that eligibility criteria are looser than those applied in the selection of this team.

AFL New Zealand Heritage team selector Simon Black noted the broad pool of players to select from. "There is a significant number of players with New Zealand heritage running around the AFL, so we were able to fill a full team."

AFL New Zealand CEO Robert Vanstam would like to see the team play a test match against Australia one day. Vanstam believes the growing interest in AFL across the ditch, and from expat New Zealanders in Australia, means a trans-Tasman Test could replace the hybrid International Rules series against Ireland.

"Why would you ever want to play them with a round ball when you can play a real game of footy against another country?'' he said.

Having watched the hybrid game this author also feels we are growing beyond that and that there is scope for an Australian team to play a game of Aussie Rules against another team but rather than a Kiwi side I see the opportunity in the meantime to look at a World Team.

A World Team could play an AFL Young Guns U21 team or something along those lines. With Canadian Mike Pyke (Sydney), three Americans in Eric Wallace (North), Patrick Mitchell (Sydney) and Jason Holmes (St Kilda), a wealth of Irish lead by players of the calibre of Zac Tuohy (Carlton) and Pearce Hanley (Brisbane), the home grown Kiwis in Kurt Heatherley, Shem Tutupu and Siope Ngata (Hawthorrn), Joe Baker-Thomas (St Kilda) and Maia Westrupp (Melbourne) and Papua New Guinean Gideon Simon (Richmond) there is a pool of talented players who have come from overseas to make the game their own.
The expansion of players available when eligibility is opened to those born overseas then goes through the roof. Majak Daw (Sudan) and Aliir Aliir (Kenya) immediately spring to mind! You might struggle to find an anthem for this side perhaps you could have the theme to Star Wars!

Getting back to the NZ team Vanstam said the impact Hunt's transition to AFL had made in the country of his birth should not be underestimated.

"What he does is he provides a reference point for New Zealanders. They understand his pathway and realise yes it's possible,'' he said. "In many ways what he has achieved is more regarded over here, we can understand the courage of the guy to change, to have a go. And there are a thousand Israel Folaus and Karmichael Hunts in South Auckland and they are 15, not in their early 20s.''

Warren Jones (left) helped select the team, which included Ben Miller, Shane Savage and Joe Baker-Thomas.

Vanstam said creating national representative opportunities was the quickest way to make AFL grow in New Zealand.

"There are only 15 spots in the All Blacks,'' he said. "What AFL is doing is providing another code for New Zealanders to play sport at an elite level. The AFL community is still learning about national representation, whereas in New Zealand it is in their DNA. Every kid grows up wanting to represent their country."

Wayne Schwass, one of the Heritage team selectors, agreed with this assessment. "To see a New Zealand National team playing together would be a significant achievement and would be another step in the development of football in New Zealand."

There are currently more than 30,000 registered AFL players in New Zealand and Vanstam believes a new broadcast deal which will see live AFL beamed into the land of the long white cloud will see that figure grow.

The team was selected by retired Lions star Simon Black, former Kangaroos and Swans star Wayne Schwass and retired Carlton Premiership winner Warren Jones. All, if still playing, would have been eligible for selection.

Black attended the AFL New Zealand High Performance Awards in Wellington where the team was announced. He admits he knew little about footy in the country of his ancestry until one day, after a hot pre-season training session at the Lions' summer base at Coorparoo, AFL New Zealand chairman Geoff Dickson stepped out from under the shade of a tree on the hill and asked him to be a selector. "That was the first I'd really heard of footy being played on any real level over here but throughout the selection process I've discovered there's a community here that love their footy,'' he said. "There's some good AFL players in the side but also some local stalwarts which has really created a buzz."

The AFL New Zealand Heritage team includes five home-grown players, including Hawthorn International Rookies Shem Tatupu and Kurt Heatherley, St Kilda International Scholarship holder Joe Baker-Thomas, and New Zealand Hawks stars Andrew Howison and Ben Miller.

2014 AFL New Zealand Heritage Team

BP: Jasper Pittard Ben Rutten Greg Broughton
HB: Kurt Heatherley Heath Grundy Jordan Russell
C: Shane Savage Andrew Howison Nathan Van Berlo
HF: Brent Renouf Beau Maister Aaron Edwards
FF: Cameron IIlet Shem Tatupu Jay Van Berlo
R: Khan Haretuku Dustin Martin Sam Mitchell
I/C: Karmichael Hunt Joe Baker-Thomas Ben Miller Max Gawn


http://aflnz.co.nz/afl-new-zealand-heritage-team-named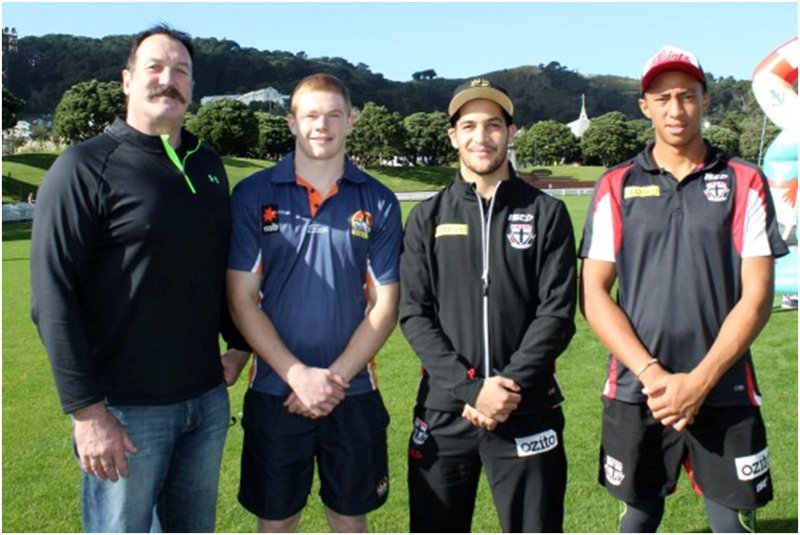 Warren Jones (left) helped select the team, which included Ben Miller, Shane Savage and Joe Baker-Thomas.