2014 ANZAC Cup at Villers-Bretonneux, France
Saturday, May 03 2014 @ 03:05 pm ACST
Contributed by: Harley Vague
Views: 1,811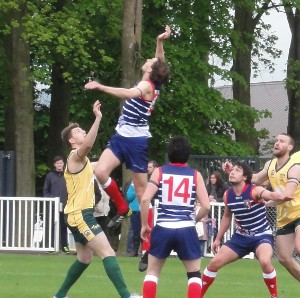 It was a sunny Saturday afternoon in Villers-Bretoneux. The Aussies (selected from across Europe) were training together for the first time. There was an emphasis on clean crisp movements that made the soccer pitch look small. It rained all night and much of the morning. The pitch that was slippery when dry from the grass covering was even more slippery when the hard clay underneath developed a muddy skin. Luckily the rain ceased and the spectators were able to enjoy the pre-match presentations.
A lot of the spectators were familar with fact that the French team were the historical benchmark and were expecting a close tussle. That was not to be. Even though the French ruckman clearly won most tapouts with a great display of athletic jumping the Aussies played clinical dry weather football as they had practised. With the minimum of handling they were able to deliver the ball to an extremely potent forward line that lead fast and strong all day.
By contrast the French reflexes were slower and indecisive. It was a comprehensive win by the Aussies and the scoreline was daunting but that was in part was due to the superb accuracy of the Australian forwards. I'm sure the French will have gained a lot of knowledge from this match in their players' capabilities and the competitive experience. I expect to see a quantum improvement by the French side in the 2014 International Cup as a result.

Final scores: Australian Spirit 39.14 (238) defeated France 2.7 (19)

See Australia spirit take home the Topdeck ANZAC Cup for more.

Editor: Query whether driving home such a massive victory was good for the game. There was criticism many years ago of Aussie teams smashing international sides to such an extreme degree.