Binatangs return home and AFL PNG 2014 pre-season reaching a climax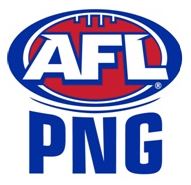 On the back of the Coca Cola PNG Binatangs winning the 2014 AFL U/16s South Pacific Cup held this week in Coffs Harbour – the footy attention of PNG swing back to matters domestic. This weekend sees the Grand Final of the pre-season tournament for the Port Moresby senior competition.
Set for tomorrow (Saturday 18/04/14) at Colts, the day will also feature AFL PNG officially making an announcement of its' major sponsor for the Port Moresby senior competition at lunch during the pre-season grand final. Governor of the Bank of PNG, Loi Bakani, will be making the official announcement tomorrow.
AFL PNG has extended an invitation to all AFL PNG football clubs, players, club sponsors (or reps), club management and footy supporters to attend our pre-season grand final and MOST IMPORTANTLY, witness the sponsorship announcement.
Competing teams including : Gulf Giants, Defense Hawks, MoniPlus Taurama Suns, CPL Gerehu Magpies, Gordons Kokofas, University Tigers, Bomana Cats, Central Bombers, Lamana Dockers and Koboni. 2014 sees the welcome return of the Central Bombers.
The Central Bombers back in action in 2014; and the returning South Pacific U/16s champs the PNG Binatangs.