Northern Saints Recruiting Players and Coach for New Youth Girls Team
Wednesday, February 26 2014 @ 12:57 pm ACDT
Contributed by: Tobietta Rhyman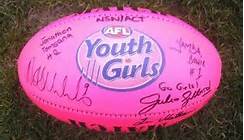 Essendon District FL team Northern Saints FC are proud to announce they are fielding a Youth Girls team for the 2014 season. To get local girls involved in the club and the game has been a longstanding aim of the Saints, a club renowned for their investment in juniors footy and their inviting, family atmosphere.
The club, based at Mutton Reserve in Fawkner, Melbourne, is currently recruiting girls aged 13-17 to join up. From experienced players to total beginners, everyone is welcome to come along and enjoy a great, fun sport in a safe and friendly family orientated club.
Along with players, the Saints are also looking to recruit an experienced coach who is comfortable with the idea of coaching seasoned players and girls who are new to the game. Some players may not be as skilled and others may need to learn the rules and skills of the game, but the ideal coach would be a supportive leader with the drive and enthusiasm to make playing Aussie Rules footy a fun and inclusive time. A passion for the game and fitness is a must, and leadership and organisational skills are paramount.
The club will provide all the resources necessary to make a positive impact into the world of Youth Girls footy and is prepared to contribute towards coaching costs if the candidate can show how this will benefit the girls and the club.
If you are interested in becoming a coach or a player, please get in touch with Geoff Kosmak on 0420 672 327. Visit their website at northernsaints.org.au for further information on the club and their hopes for the 2014 season.