In Scotland: A growing appetite for a quintessentially Australian sport
Monday, February 17 2014 @ 06:00 pm ACDT
Contributed by: Wesley Hull
Views: 3,631


Hannah Thomson, writing for SBS, has provided an excellent account of the growth of our Australian game in Scotland. From the McCracken influence at Essendon to the Scottish football scene today, Hannah examines the growth through the eyes of those currently playing or involved in Australian Rules football in Scotland.
When you think of Scottish sports, AFL won't be the first thing that comes to mind. However, when Aussie rules first began in the mid 1850's, the Scots were more involved than you imagine. When John McCracken and his two sons, originally from Girvan in the West of Scotland, moved to their new home in Melbourne in 1871 they established the Essendon Football Club.
Now, more than 140 years later, the game is beginning to flourish in the McCracken's ancestral home.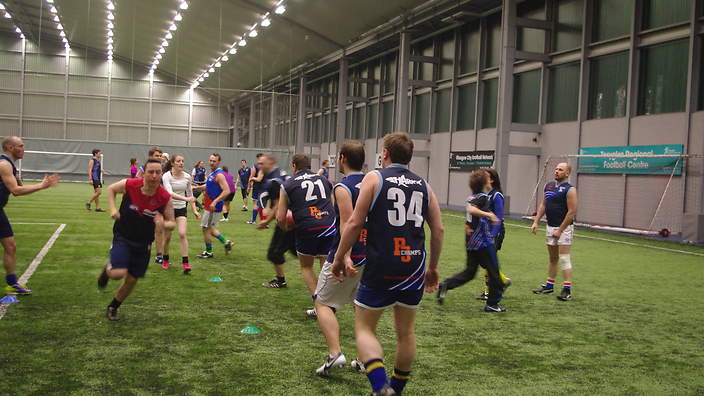 From humble beginnings eleven years ago there are now four teams in Scotland. The Edinburgh Bloods, The Aberdeen Eagles, The Kingdom Kangaroos and the Glasgow Sharks play in the Scottish Australian Rules Football League (SARFL) and compete for The Haggis Cup.
On a dark winter night, at an indoor - it is Scotland after all - sports stadium in Glasgow, Sharks players gather for a training session.
"I started playing the sport when I was four. My father was into his Aussie rules and in Wagga Wagga where I'm from, it's just what you do on the weekends, everyone does it," says Adam Jack, 38.
A true blue Aussie, Adam moved to Paisley, near Glasgow, with his Scottish partner in 2003. Scotland is home for Adam but AFL still runs through the former Wagga Tigers player's veins.
"The sport is not so popular here but it's definitely growing...it's a bit of a niche sport just now. When I first started at the Sharks in 2008 we wouldn't even have people coming to watch u," he said. "And now we have crowds coming along, not huge crowds but more than we had. The more we can get it promoted and get people exposed to it the better."
Adam says there are differences between playing back home and playing in Scotland.
"It's probably the speed of it and the hardness of the tackles because everyone here is sort of learning and everyone is at different levels.
"There are lots of rugby players in Scotland and I reckon they would make great Aussie Rules players, we've had a few rugby players come down and train and play in seasons gone by. Back home, the rugby boys always say that the Aussie rules boys make the best rugby converts."
The training session is physically gruelling, but that has not stopped six women from signing onto the team.
"I got asked by one of the other girls if I wanted to try a new sport without telling me what it was," said Stacey Hughes, 29, a Scottish student from Ayrshire.
She says the team player spirit was the key appeal.
"I decided to stick with it because I love camaraderie with the boys, I used to play football and you just don't get that there.
"Male footballers are not really keen on girls playing football and even though this is a tougher sport with more physical contact the boys are right into helping you develop your skills. Last year there were twelve girls on the team but we lost six of them when they went back to Australia."
Aussie Rules football also has a national team here, the Scottish Clansmen. The team was established just over a year ago and 16 of the Glasgow Sharks have been called up. The Clansmen and Sharks coach Stephen Connor, 43, was born in Scotland but moved to Ballarat, Victoria when he was very young. He played for North Ballarat but then moved back to Scotland when he was 16 years old. The Sharks concentrate on attracting local talent to their team.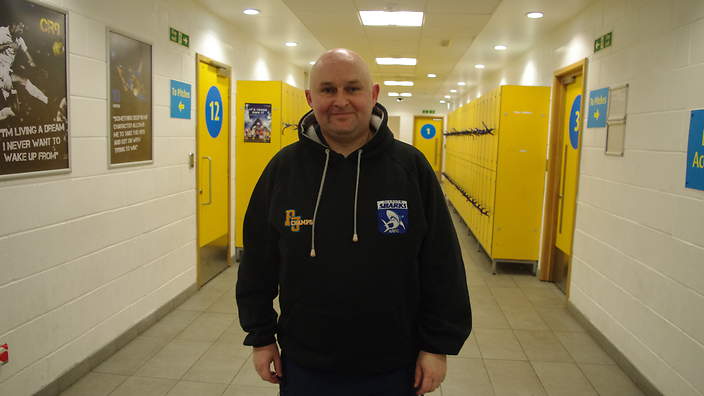 "The good thing about the Sharks is that we have about six Aussies this year and 49 locals, whereas other teams such as Edinburgh rely on Aussies coming over to play for them and when they disappear back home again it leaves such a big gap, says Stephen.
"Our focus for the past four years has been to get local talent coming to play for us. The hard thing about this however, is it means a lot of our guys are beginners they tend to really struggle on the park.
"Although we're competitive, it's difficult to beat other teams but we think it's a positive in the long run that we're training up local guys. We have five players just now that are under 20 and we think that training up young kids means that when they're 25-26 years old it won't matter that they're playing Australians who know the game inside out because they will have been playing themselves for six or seven years."

Stephen has one eye on the ball and the other on the history books.
"Before I started coaching, I was away from the sport for 10 years mainly because I had started a family. I felt when I came back to it and joined the Sharks, there was no direction in the club, the guys were just kicking around the ball and arranging the odd game," he said.
"I wanted to be known as the person that came in and set up something that would go on for years and years. I'm always talking to the team, about history and that history is what we make it now. In 100 years time I want people to be talking about how the Australian rules in Scotland started."