VWFL's best get a passport to success this summer
Tuesday, December 17 2013 @ 04:34 pm ACDT
Contributed by: Tobietta Rhyman
Views: 1,811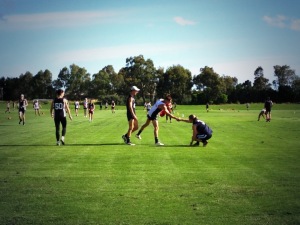 Thirteen of the VWFL's top players have been selected to take part in the 2014 AFL Victoria VWFL Academy/ TAC Club Talented Player Pathway Program – a special pre-season training programme, focussing on skills and game sense, held at their local TAC Cup region.
The VWFL stated on their website they were delighted to have the Northern Knights, Calder Cannons and Eastern Ranges on board for training program but added all TAC Regions were supportive of the idea.
AFL Victoria's VWFL Competition Manager Darren Flanigan said it was a great opportunity for the girls to further their football development.
"AFL Victoria are always looking to promote and enhance women's football in general and to provide new development opportunities for elite players," he added. "Having the chance to be part of a highly professional programme is something the players have really embraced."
The players who accepted the invitation have been placed into groups, depending on the TAC Region which best suits their residential or work location. The groups are as follows:
Calder Cannons: Lauren Arnell, Nicola Stevens, Alicia Eva, Kaz Paxman
Eastern Ranges: Lou Wotton, Meg Hutchins
Northern Knights: Lauren Spark, Melissa Hickey, Katie Brennan, Stephanie Chiochi, Aasta O'Connor, Elise O'Dea, Daisy Pearce
Players are expected to attend weekly training sessions. The first session with the Calder Cannons and the Northern Nights took place last week.