First Emirati player selected for Falcons
Monday, December 02 2013 @ 05:30 pm ACDT
Contributed by: Wesley Hull
Views: 1,599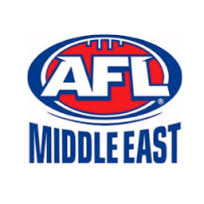 Whether he knows it or not, Abu Dhabi footballer Ali Anmed Alhosani might be the catalyst of change in Middle Eastern Australian Rules football. This season Ali has become the first player born in the United Arab Emirates to play for a club in that country. The Abu Dhabi Falcons selected the 19 year old to play this season, effectively opening the door the more native born players.
Not only does Ali have a good football mind, but after interviewing him this week it is clear that he is one bright cookie with ideas that may influence the future of the game in the region.
His background is very interesting. "I am a 19 year old Emirati local, born and raised in Abu Dhabi. I completed my high school in Melbourne. I am also an independent visual artist, passionate long boarder, and a very good soccer player, but being a visual artist is what I'm known about most."
"I moved to Melbourne with my family to complete my high school in late 2010. I saw how passionate people are towards [Aussie Rules] footy, and it grabbed my attention. I attended my very first game between the Mighty Carlton Blues and the Essendon Bombers. I started learning about the game, then started attending more games and I got hooked to it. Even though I never played a footy game before, I got to experience it here in Abu Dhabi. I very much do.. Even though I have been playing [soccer] since I was a child, I do prefer Australian Football on top of soccer. "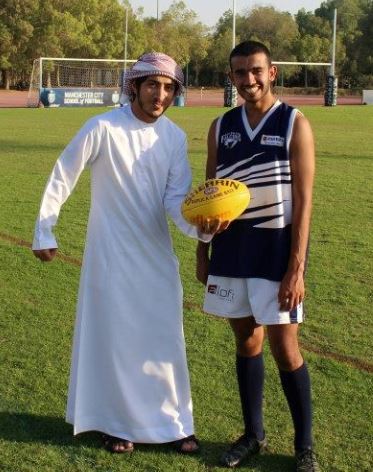 When asked about his favourite aspects of the game, his eager reply was "My favourite moments playing the game as a forward player are to be distracting the opposition's attention. Running up and down, tiring the massive defenders is a unique flavour in this game. Knowing the fact that someone who is physically much stronger than you are, yet cannot keep up with where you are is a great feeling. Also, running with the ball and being the focal point, is as I would describe it, is a shining moment. You just have to give what you've got."
Of most interest is Ali's perspective on the game and its place in the Middle East, particularly as a game with scope for growth. "Being the very first Emirati player is such a pride source to me. I can brag all about it to people. What is most important to me, is that I am introducing a new amazing sport to my local friends and family. I don't [only] want to be known as the first Emirati player, but the fairest would sound way much better."
"I believe if this sport got introduced and presented to the society [of the United Arab Emirates], I don't see why can't it be an official sport here. What I hate is that people mistake it with rugby. But, then again, I can't blame them. Aussie Rules isn't that popular in this region. I would honestly love to be a part of a local channel discussing how it feels to be an Australian Rules football player."
"I believe that the moment i got introduced to the game I thought it was just about violence and fighting. It turned out to be more of a thinking game. It requires lots of skills, timing and physical ability." Through his own exposure to the game Ali has learned a great deal about the joys of the game and believes that through more education and information other players will follow his lead over time. "The fact that there aren't many Emiratis playing this game is the lack of footy attention in this region. In this area the media can play a huge role."
The final few minutes of our chat included a test of allegiance and confidence. "First of all, I'd love to thank my beloved team, the Abu Dhabi Falcons, for giving me the opportunity to enrol and be a family and team member of theirs. I really don't see why the Falcons can't be premiers! We've got all it takes, and we are up for it."
I can certainly see that Ali's attitude to the game is so positive and infectious that the Abu Dhabi Falcons could rise to the top, and in turn create further opportunities for fellow Emiratis. This would then have a domino effect for other UAE clubs and possibly throughout the Middle East.
World Footy News would like to congratulate Ali and wish him a long and successful Australian Rules football career.