UCC Aussie Rules club makes European history
Sunday, November 24 2013 @ 09:35 pm ACDT
Contributed by: Wesley Hull
Views: 2,049


Earlier in 2013 World Footy News published a story about the fledgling Irish club, the UCC Bombers from Cork. Since that time, the Bombers have continued to develop and improve. The culmination of this could be seen in their recent narrow loss to the Leeside Lions in a friendly match where they went down 12 5 77 to 10 8 68. But before that, the UCC Bombers had the honor of winning the inaugural Fitzpatrick Cup in Dublin to create a piece of their own history. Below is an account of the games.
UCC Aussie Rules club (UCC Bombers) recently entered the inaugural AFL Europe accredited Fitzpatrick Cup cup at Islandbridge, Dublin. The four competing clubs were Northern Regional College(NRC), University College Cork (UCC), Dublin City University (DCU) and the oldest AFL team outside Australia, Oxford University. UCC were drawn to play DCU in the opening preliminary final, with Oxford University going head to head with NRC in the other. Prior to ball-up AFL Commission Chairman, Mike Fitzpatrick, whom the tournament is named after, kicked off proceedings at the Opening Ceremony, recalling stories from his time spent at St John's College and his association with the Oxford University football club. "I am very humbled that this great tournament is being held in my honour", stated Fitzpatrick. "I look forward to seeing some potential AFL stars take the field today." Also in attendance was AFL Europe Chairman, Chris Dow who addressed the special guests ahead of the knockout tournament. "This is an historic day for AFL in Europe and each participating club", he said.
The matches got underway just before midday, with a fiery encounter between UCC and DCU. UCC travelled with a good squad of players which were primed for football after 6 weeks of hard work with club coach Eoin O'Sullivan. For the majority of the playing group this was their first game, with only a handful having previously experienced AFL action. PJ O'Brien led the team out as captain and after some strong words of encouragement from team manager Danny O'Brien the Bombers were ready to go.
UCC Vs DCU
With all the build up out the window the game got underway as UCC ruckman Ian Silke went head to head with his DCU counterpart. It proved to be an interesting contest with both giving it their all as Silke more than held his own early on. DCU made the brighter start but after some good work from the half back line consisting of Mark O'Brien, Peter Traynor and Teddy Hartigan UCC began to find their feet. The fullback line of PJ O'Brien and Kian McCarthy were giving no change either as they made early clearances thwarting DCU attacks. The midfield began to take control midway through the first quarter with John O'Keeffe, Kevin O'Leary and Mike O'Riordan picking up some good touches and feeding the ball into the forward line. The half forward line of Fergal Lalor, Dan Gallagher and Muiris Bartley were always dangerous with plenty of hard running while tall forward Diarmuid O'Sullivan was causing DCU untold problems as he made some spectacular marks in the opening half. David Higgins was lively also in the forward pocket role assisting the forward line very well. After the opening two quarters UCC led 3.4(22) to DCU 1.2(9). Majors in that half were kicked by Muiris Bartley (2) and Ian Silke.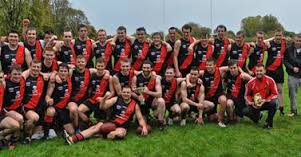 UCC began the third quarter very strongly and really came into their own, as Sean Coleman and Cormac McDonagh entered the fray in the forward line. Both grabbed fine goals due to some good work in the middle, with Tom Rohan and Mike O'Riordan especially lifting their work rate. DCU were visibly tiring under the sustained pressure from UCC but managed to tag on a goal and a couple of behinds just before the 3 quarter time siren. The fourth quarter was about UCC seeing the job through as Danny O'Brien and Eoin O'Sullivan used the rolling interchange bench wisely with Oisin Collins, Matt Bell and Ger O'Sullivan coming on to great effect in the forwards. Dean Crowley came on at half back flank and made some bulldozing runs while disposing the footy to maximum effect. Ronan Sheehan and Stephen O'Connor also played well in the backline when called upon. Other players who made significant contributions when called upon were Luke Bradley, Luke Gibbons, Ian O'Brien, Joe Maguire, Michael Maher, Ronan Murphy and Ciaran Doyle.
The final siren sounded with UCC running out deserved winners on a scoreline of UCC 8.6 (54) DCU 4.7 (31).
Stats:
Goals: Muiris Bartley (2), Cormac McDonagh (2), David Higgins (1), Ian Silke (1), Sean Coleman (1),Diarmuid O'Sullivan(1).
Best(top 5): Ian Silke, Kevin O'Leary, Peter Traynor, Mike O'Riordan, Muiris Bartley.
Best on ground: Ian Silke
Fitzpatrick Cup Final – UCC vs Oxford University
After defeating DCU, UCC were handed the task of playing Oxford University in the Fitzpatick Cup final after they had defeated NRC. The Bombers were under no illusions of the task at hand as competing against the oldest established club outside of Australia with their team compromised primarily of Australian nationals.
UCC were ready for action though and as soon as the ball hit the deck in the first quarter they were all over it. Mike O'Riordan took up where he left off in the previous game putting in some huge hits and disposing the ball well out of the middle. O'Leary, O'Keeffe and Silke were dominating the exchanges in the middle early on as UCC's fierce desire for the football came to the fore. Even with the rain bucketing down the intensity level didn't drop as each tackle, mark and score was met with a rapturous roar of approval from every UCC player and supporter. Cormac McDonagh, David Higgins and big full forward Diarmuid O'Sullivan were fantastic throughout as McDonagh's eye for goal really shone through. Sean Coleman was finding his radar also along with key forward Muiris Bartley. At the end of the first 20minute half UCC led by 3.7(25) to Oxford University 1.2(8).
The second half of this encounter was more physical as Oxford attempted to force their way back into proceedings. This was met again by fierce determination as the UCC players stood tall turning over possession in key areas. Dan Gallagher was seeing more of the ball and was aided well by Fergal Lalor and the impressive Ger O'Sullivan. Higgins and McDonagh were flying in the inside forward line. The back line was outstanding led by passionate leadership from Captain PJ O'Brien. Having only played their first ever game in the match previous McCarthy and Traynor were fantastic showing real composure in the wet conditions. Each player when called upon put their bodies on the line for the team and that desire and commitment was rewarded when the final siren sounded. UCC had completed a marvelous victory over tournament favorites Oxford University on a scoreline of UCC 7.11 (53) Oxford 3.4 (22). The celebrations were a joy to behold as AFL Europe chairman Chris Dow presented the inaugural Mike Fitzpatrick cup to UCC captain P.J. O'Brien.
It was a fantastic weekend for the UCC Bombers club, as only set up in 2012 and to have made such great strides is a testament to the players and management. As there are too many to mention the club would like to take this opportunity to thank everyone who helped make the day what it was, with a special mention going to the AFL Europe, ARFLI and UCC Sports Department for their continued support. There will be a medal presentation in the UCC New Bar in early December to commemorate our fantastic achievement and the efforts of each player. Details will be sent out on social media and via email once it has been confirmed.
Fitzpatrick Cup final (Stats):
Goals: Muiris Bartley (3),Cormac Mac Donagh (2), Sean Coleman (2)
Best(Top5): Mike O'Riordan, Ian Silke, Cormac MacDonagh, Sean Coleman, Kian McCarthy
Best on ground in the final: Mike O'Riordan
UCC Player of the tournament: Mike O'Riordan