GB Bulldogs Star Leads SA Hills Central Division Namesakes to Premiership Glory
Saturday, November 02 2013 @ 07:40 am ACDT
Contributed by: Tobietta Rhyman
Views: 3,752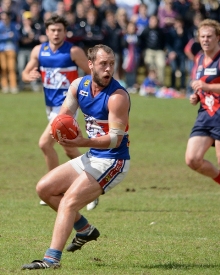 Interview and article courtesy of Scott Patching
In what is surely a rare, if not unique, dual achievement for an international player in Australia, Great Britain's Will Worthington has captained a premiership side, and claimed the team's best and fairest award. Worthington led Onkaparinga Valley Bulldogs to victory in South Australia's Hills Central Division B grade on the 14th of September, before taking out the highest individual prize, and the Players MVP, the following weekend.
The stories of people from overseas that come to Australia to play footy are often intriguing as we struggle to imagine our game being played anywhere else. Will's is no different. 9-a-side footy on rugby fields in the south of England must seem a distant memory when playing in front of a few thousand people at a country Grand Final. In between there have been the lows of injury and the highs of national representation.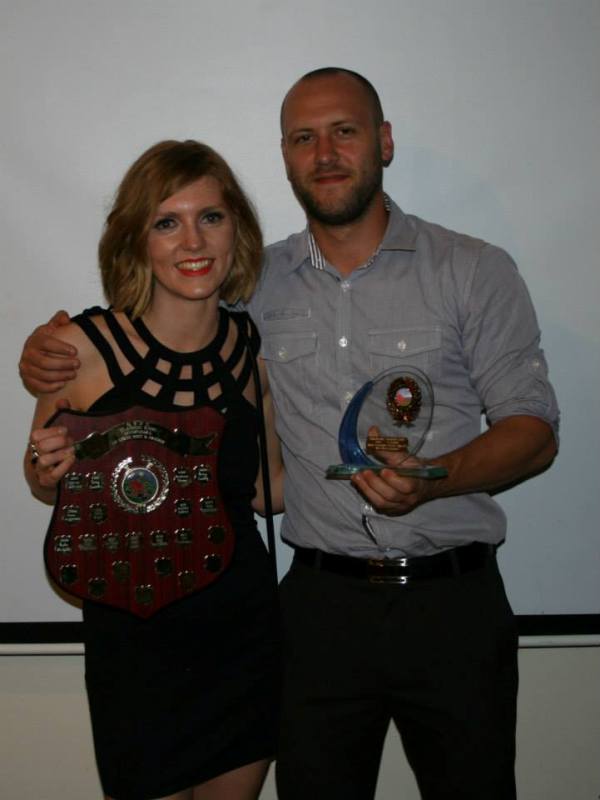 Will, now 27, grew up in Northamptonshire, in England's midlands, whose own sporting sides have enjoyed notable recent success in rugby and cricket. Absorbed into sporting culture from an early age, Will played semi-professional soccer as a teenager and also played for Northants at youth level in cricket. The thought of ever playing 'Aussie Rules' was never in his mind although he was exposed to the sport at a young age.
"My Dad is from Adelaide," explains Will, "and he used to talk about playing 'footy' for Glenelg when he was growing up. My pop sent over a crow's scarf and beanie when they were formed. I remember getting up early to watch the Crows in the '97 grand final on TV with Dad. It was the first game I'd ever watched. The second was the '98 grand final!"
"We would spend the odd Christmas in Adelaide and occasionally a footy would come out for a 'dob'. I didn't think much of it at the time but in hindsight that was probably quite important. Probably the biggest thing that most British players struggle with when they start playing footy is kicking. Getting to grips with the basic mechanics at a young age meant it was much easier for me when I started playing later on."
It was as much by chance of circumstances than any grand plan that at the age of 22, Will would start playing seriously with the Sherrin.
"I went to Uni at Brighton and was still pretty serious about my soccer. Then I had a really bad run of ankle injuries and missed a whole year. That combined with a pretty unhealthy uni lifestyle and before I knew it a couple of years had passed and I'd just drifted away from soccer. In my third year I decided I'd like to get fit again but wanted to do something different. By chance I stumbled across the Sussex Swans on the internet and decided to give it a go."
It would prove to be a sound decision.
"I loved it from the start. Stu Head and Ian Minns were really passionate coaches and serious about their footy and teaching the game to beginners, but also knew it was about blokes just enjoying themselves. We won every game except the grand final which was disappointing but I'm still great mates with all those blokes and it just got me hooked on footy."
Will's form led to a call up at the end of the season to represent England at the '08 Euro Cup, where the Dragonslayers were victorious for the first time. The following year Will moved back home to Northampton and decided to play for the London Swans. A bad ankle injury 30 seconds into the first trial game curtailed his home season, but he managed to get fit in time to make the England squad again. The Dragonslayers went back-to-back, with Will taking home the GF MVP and a European jumper.
With job opportunities drying up in a post-GFC Britain, Will decided a change of scenery would be for the best and moved to Adelaide. Upon arrival, he was dragged up the freeway to the Onkaparinga Valley Football Club by a mate from the Adelaide Hills whom he had played cricket with in Northants the previous year.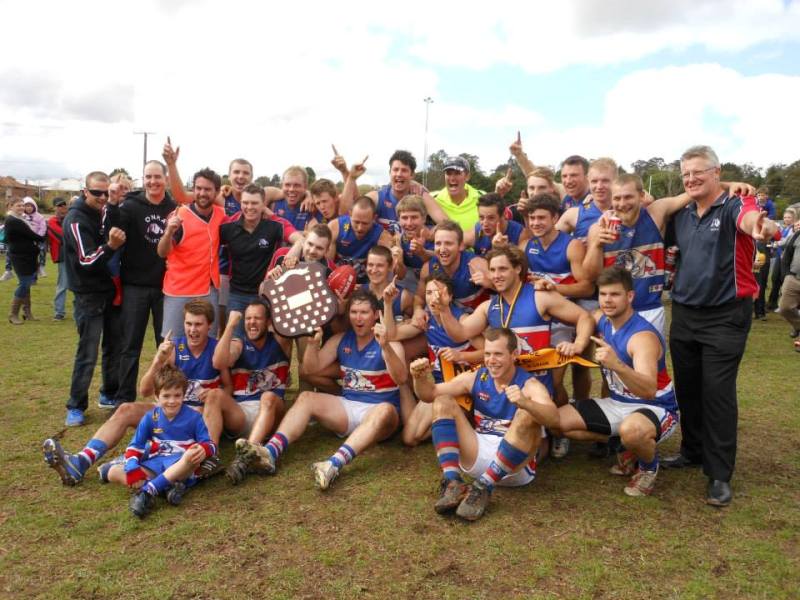 "The coaches thought Bruce was playing a bit of a prank when he introduced me as his English mate that wanted to play footy!"
A joke it certainly wasn't and Will surprised many, particularly with his attack on the ball, and played 7 A-grade games in his first year in what is regarded as one of the strongest amateur comps in South Australia.
"It was a great experience. I'd played less than 20 games of football, mostly 9-a-side, and all of a sudden I was standing blokes that had played league footy. I was probably a bit out of my depth but my footy certainly developed quickly."
That development would be interrupted before the end of the season as injury struck again and would persist.
"I was working as a tree lopper. It was good fun but hauling wood around all day pulled my hips out of shape. As a result of that I developed OP in my groin. It's quite common in footy players and really debilitating. It was so frustrating. My pre-season the following year was pretty light and I just about nursed my way through the season."
The 2011 IC would be the high point of Will's year.
"It was a great experience, terrific. Lined up with the best of your country to play against the best of someone else's country, it was a big thrill. My form was really good in the first week, but going from nursing a sore groin from Saturday to Saturday, to playing six games in two weeks was pretty tough. By the last game I was in the forward pocket not moving too fast! But we finished 7th and everyone was rapt."
A change of career gave Will's body some respite. Last year he enrolled at Uni SA to gain a graduate diploma in education, and this year has been teaching in the Adelaide metro area. In that time he has recovered some of his dash, while 'Onkas', as they are known to the locals, also gained strength.
In 2012, Will was a vice-captain of the B-grade side who fought their way from 4th on the ladder into a grand final. They fell short on that occasion, but would not be denied this year. A blistering 6 goals to zero first quarter against Uraidla Districts setting the doggies up for an eight goal win.
"It was awesome. After '08 with Sussex and last year, you start to wonder if you'll ever get there. AFL is a cruel game in a way. It all comes down to one game and if you don't get up at the end you've got nothing to show for an enormous amount of hard work to get there. Just being part of this side was amazing, it's such a great team and now we've got this special bond together."
A good team it was. An abundance of money in country football and the Hills close proximity to Adelaide means more and more players are being drawn from town. The depth of talent is being pushed into the B-grade and long gone are the days where the 'B-grade' competition is a grazing paddock for the 'old and overweight'. Onkas premiership side featured a former SANFL player, a player with an under-19 SANFL flag, and countless others who have played SANFL juniors or country representative squads. Such was the strength of the Onkas squad the coaches decided a player who played 2 SANFL reserve games this year wasn't worth the risk due to a slight injury.
It was a quality unit, and the coach, Steve Jefferies, whose older son, Ben, was club champion for SANFL victors Norwood this year, has nothing but praise for its captain.
"Will was co-captain with Damon Potter, but when Damon suffered a season ending knee injury half way through the year Will had to carry the leadership role by himself for the remainder of the year. He was an exceptional team leader and motivator."
Steve continues, "Will started the season playing across half-back where he was an outstanding rebounding defender using his good disposal skills and decision making to great advantage. After Damon got injured Will moved into the midfield where he led with exceptionally strong attack on the ball on the inside of stoppages bringing other players into the game on the outside. Will's attack on the football and self-sacrifice towards following team structures was a great example to his team-mates and an important reason the team was so successful."
Having thoroughly celebrated the success of 2013, enjoying the spoils of victory, Will plans to travel back to Europe for 12 months to be with family and friends and continue his teaching career. Although he won't be able to join the Onkas lads in their premiership defence football will still be at the forefront of Will's mind, with the 2014 International Cup on the agenda.
"I've always wanted to get back for a bit to travel and my girlfriend is keen as to go and have a look. If I don't do it next year I never will. But the IC is very much in mind. I'll be based in London so hopefully I'll be able to build up some decent fitness and form and we'll give it a real crack. The standard of international footy seems to be getting better all the time so I think finishing a place higher than we did last time is a decent goal for us."
Will's achievement in 2013 are testament to the hard work and dedication he has shown to get the best out of himself and regardless of where Will is in the world he will no doubt continue to be a tremendous ambassador for the sport and a great example for international players to follow.