Victorious Englishmen report back from Bordeaux
Sunday, September 29 2013 @ 06:28 am ACST
Contributed by: Aaron Richard
Views: 1,702

The England Dragonslayers have sent out their official review of their successful Axios 2013 Euro Cup campaign, with the following article and photos courtesy of coach Rob Fielder.
On a bright sunny day in Bordeaux on Saturday, the England team defeated France in the final of the 2013 tournament.
In front of 300 spectators including many passionate local fans, the 'Slayers' dominated from start to finish, playing a quality brand of 'footy' that is rarely seen in Europe.
England had many heroes on the pitch, Sean 'Superman' Walton confounded opponents with his ability to make important interventions almost everywhere and was named in the European team of the tournament. Walton was backed up by captain Ian Mitchell who lead the team superbly once again. Lee Tarn was best on ground in the final for his expert marking and goal kicking display at full forward. Matt Whiteley, Graham Bickerdike and Matt Kilheeney worked expertly to nullify any opposition momentum.
Streamed live on AFL Europe, England defeated Catalonia and Iceland in the group stages, then overcame the powerful Croatians in the semi-final in the athletic and long kicking sport.
Coach Rob Fielder commented "The players applied themselves diligently in all our preparation and were rewarded with their fine performances, I'm so proud of them all. The next step is gaining national sponsorship so we can take our incredible sport to the next level".
BELOW: The 2013 Dragonslayers squad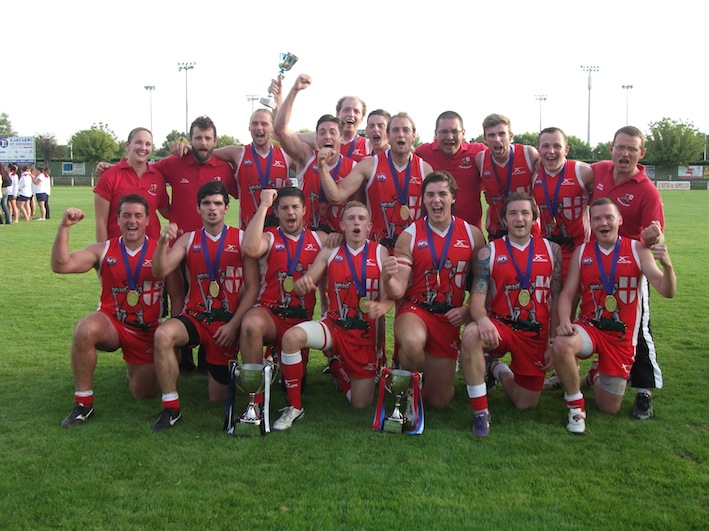 BELOW: Coach Rob Fielder and Captain Ian Mitchell