Axios Euro Cup Team Preview – Italy
Tuesday, September 17 2013 @ 06:39 pm ACST
Contributed by: Wesley Hull
Views: 1,303


As we get closer to the event, World Footy News continues its series of articles looking at the preparation and prospects of the various nations competing at this year's Axios Euro Cup in Bordeaux. This time we look at the story of the Italian national team. Nicola Giampaulo, former coach of the team representing AFL Italia, gives us his insights.
The Journey:
"I am very excited with our prospects for this year's Euro Cup.
The past 12 months have been stable and this is alone a positive outcome. We are finding it difficult to introduce new teams to the national comp but on the other hand we have not lost any either. Financial limitations are the biggest problem for the clubs and this makes it difficult facing costs and does not allow much promotion of the game."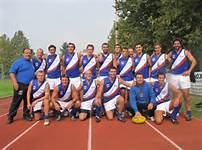 The Preparation:
"The team has well prepared for the competition. They have met twice over the last two weekends for two-day training sessions in Genova and the 16 man squad is raring to go. We are very confident that we will perform well."
The Squad:
"The squad has some new faces but the bulk of the players are seasoned 'Euro Cup' campaigners. Our strengths are in the midfield on-ball players - many very quick and skilful players ready to bounce on the ball to get first use and clearances. We are looking for a great team effort highlighted with some very dynamic individual performances."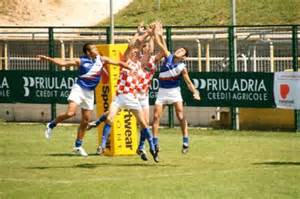 The Goal:
"As in previous years our main goal is to show that we are constantly improving in skills and game plan strategy. Our coach Armando Colombo firmly believes that the correct and intelligent use of the ball marks the best way towards goal and makes the game a whole lot more fun. In 2011 everybody considered our 4th place a fluke. We proved the sceptics wrong by confirming this placement last year. We aim to go better this year."
"Go AFL Italia!!!"
The Final Word:
A string of wins at last year's event, playing against the other Pool 3 teams (Germany, Wales and Iceland), saw Italy finish top of their pool. This was followed by a quarter-final victory over Finland before losing their semi-final to eventual Grand Finalists, Denmark. That run was no fluke, and the boys from Italy have every right to believe they can pull off a similar, or better, performance this year.