AFL Europe Algarve 9's, Portugal – Lisbon Dockers\' time to shine
Saturday, September 14 2013 @ 07:59 pm ACST
Contributed by: Wesley Hull
Views: 4,471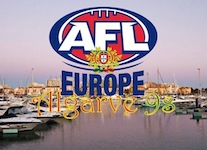 This weekend saw a tournament played in Vilamoura, Portugal, which was small in scale and number of teams, but potentially huge ramifications for the nations competing.
Originally looked at as a tournament for teams not going to the Axios Euro Cup in Bordeaux next weekend, the event was eventually populated by the Oslo Crows (whose players will be in Bordeaux as part of the Norway squad) as well as the Flying Dutchmen from the Netherlands and the Lisbon Dockers representing host nation Portugal.
According to David Valente, President of Futbal Australiano em Portugal, this event could have great benefits for football in his nation.
"I'm delighted that AFL Europe chose Portugal for this competition and that the Lisbon Dockers are able to take part in it. We hope that this is only the first of many "Algarve 9's" and that in the future not just one, but more Portuguese teams take part."
"Our main problem is the lack of local opposition, it's hard to keep people motivated when all that you have to offer are informal training sessions."
"Being able to face international opposition will be a great boost for us, and may also accelerate the creation of a second Portuguese team, which is currently being planned in Aveiro (Northern Portugal), with help from AFL Europe."
This is the first formal international outing for some time for the Lisbon Dockers, and a chance to show their skills. They are also wanting to repay the faith to the Fremantle Dockers for their support.
"We hope that this will show the Fremantle Dockers that they can count on us to promote both Australian football and the Dockers club in Portugal."
The event itself was won by the Flying Dutchmen after three round robin games and a final. The result of the lead up games were:
Game 1: Flying Dutchmen 56 d Oslo Crows 42
Game 2: Oslo Crows 70 d Lisbon Dockers 21
Game 3: Flying Dutchmen 49 d Lisbon Dockers 25
The final was subsequently played between the Flying Dutchmen and the Oslo Crows, with the might of the Dutchmen triumphing.
Flying Dutchmen 58 defeating Oslo Crows 27
Certainly this event has the potential to increase within the Iberian Peninsula alone, as both Spain and Catalunya (Catalonia) have nominated teams to this year's Euro Cup. With squads already put together for those events, more 9's tournaments playing against the Lisbon Dockers is certainly a distinct possibility and something to work towards to keep those players committed and active. This could also lead to more opportunities for the Andorran national team to compete on a more regular basis.
Overall, the Algarve 9's tournament could be a key to linking nations and teams throughout Europe. Congratulations to the organisers, AFL Europe, as well as the competing teams and their supporters, and we look forward to more of these events in the not too distant future, as well as a possible new team to look out for in Portugal.