Pools announced for Axios 2013 Euro Cup
Friday, September 13 2013 @ 04:57 pm ACST
Contributed by: Aaron Richard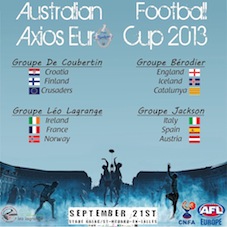 The pools have been announced for the 9-a-side Axios 2013 Euro Cup in Bordeaux, France, with 11 nations and the European Crusaders competing in a lightning tournament on September 21st.
Teams will compete in four groups of three teams each; the Groupe De Coubertin including Finland, Croatia and the Crusaders; Groupe Léo Lagrange with Ireland, France and Norway; Groupe Bérodier with England, Iceland and Catalunya; and Groupe Jackson with Italy, Spain and Austria.
Notable absentees include Germany, Denmark and Sweden, who chose not to send a side so soon after the full-field European Championships in Dublin. Other active leagues not represented include Scotland, Wales, Russia, Netherlands and the Czech Republic.
Our team previews will continue to appear over the next week or two, with the England Dragonslayers the next to be featured.