Vienna Kangaroos return - an Austrian phoenix rising?
Friday, September 13 2013 @ 04:24 am ACST
Contributed by: Wesley Hull
Views: 1,678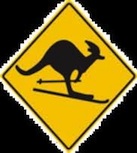 Last weekend saw a much awaited Australian Rules football match in Austria between the Graz based Styrian DownUnderDogs and the previously "presumed extinct" Vienna Kangaroos. For the record, the DownUnderDogs defeated the Kangaroos 73-59, but that is not the most important victory from the day.
As reported by Oliver Krajacic, captain of the Styrian DownUnderDogs, "Sunday 8th of September saw the first game between footy teams from Graz and Vienna in years. Pablo Caldarola, a veteran player of the hibernating Vienna Kangaroos, organised a team of former club colleagues and interested Aussies in Vienna and invited the Styrian DownUnderDogs to a friendly game."
"The match was a hard-fought battle, with the Dogs starting strongly from the first bounce and establishing a lead early. The second and third quarters saw a spirited Vienna side step up physically and exploit mistakes the Dogs made to make it close after three quarters. With the game on the line, the Dogs were able to keep a cool head and put the game away with consecutive goals late in the final quarter."
The re-emergence of Austria's first Aussie Rules team, after effectively disbanding at the end of 2010, is a welcome shot in the arm for Austrian footy. It is almost like an exclamation mark at the end of an Austrian sentence which this year contained news of university links and new teams, heralding a new era of development.
For the team that started life as the "Wiener Dingoes" back in 2003, and was the key component of Austrian representative football throughout the early years, their demise over the past few years has possibly been seen as evidence of the game shrinking in interest.
But the weekend's game, combined with a recent tournament featuring other new clubs (see Of Mountain Goats and Mammoths), certainly points to better things with the Vienna Kangaroos possibly about to rise again from the ashes of their past.
Even the dialogue from the weekend seems positive with Oliver stating that "both teams agreed to try to work together on re-establishing a permanent club in Vienna and to continue to promote the game of footy in Austria."
The performance of the Austrian Avalanche at the upcoming Axios Euro Cup in Bordeaux will be a handy pointer to the nation's development, as the national team strives to improve on recent performances. But certainly a new Vienna Kangaroos would go a long way to fast tracking that development.