Axios Euro Cup Team Preview – Austrian Avalanche
Friday, September 13 2013 @ 01:13 am ACST
Contributed by: Wesley Hull
Views: 1,501


In the next of our series of articles looking at the preparation and prospects of the various nations competing at this year's Axios Euro Cup in Bordeaux, we look at the story of the Austrian national team. Oliver Krajacic, skipper of the Styrian DownUnderDogs, gives us his insights.
The Journey:
"The last season has indeed been a good one for Austrian Footy overall and the Austrian National Team in particular. We managed to recruit new players into our club (the Styrian DownUnderDogs) and that led to, for the first time ever, competition in regards to making the national team. Also, for the first time, we are able to send 16 players to the European Championships thanks to some new sponsors."
The Preparation:
"For a substantial number of these it will be the first international tournament and I'm really proud of the effort the guys have put in all year. The new guys really challenged themselves and worked exceptionally hard, with the veterans supporting their efforts and getting additional motivation from them."
The Squad:
"I sincerely think that we have the core of a great team assembled in Austria. Of course there's always room to improve, we're far from being a Footy powerhouse still, but the foundation is in place now. The midfield can look up to our new ruckmen Erwin and Christian Schober, young brothers coming in at 2,03m and 1,97m who both show excellent potential to be great players of the game. Veteran Martin Schitteg is switching to fullback, anchoring our defence and after much injury woes is probably in the form of his career. Overall we'll have a nice mix of newcomers and experienced players on the field."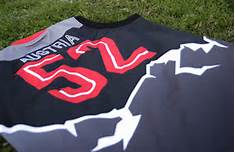 The Goal:
We did poorly in the Euro Cup standings the last couple of years and our goal is to develop into a solid contender away from the bottom ranks. It's not going to happen overnight but, for once, all the pieces are in place.
The Austrian Avalanche is ready to roll!
The Final Word:
The past twelve months have seen a great deal of new and positive activity coming from Austria. With this positive growth it stands to reason that positive change will start to be visible on the football fields. History (and logic) says that not all teams can go "up" the ladder at the same time, but there is genuine reason to believe that the Austrian Avalanche can achieve this at the 2013 Euro Cup.