Ås Battlers crowned Norwegian champions for 2013
Monday, September 09 2013 @ 08:53 pm ACST
Contributed by: Wesley Hull
Views: 1,873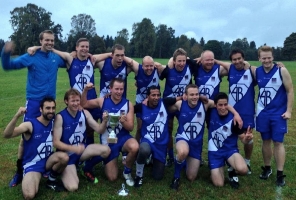 Our thanks to David Stone, President of AFL Norway, for allowing us to reproduce this article about the finale of the Kenguru Cup in Norway. We have worked closely with the crew in Oslo and beyond throughout 2013, watching the game grow in terms of talent and numbers. With the possibility of a team from Bergen appearing on the Norwegian landscape at some point in the future, credit is due to all involved with Australian Rules football development in Norway.
The UMBI Ås Battlers are Norway's champions of Australian football for 2013 after overcoming Oslo East in the final match of the Kenguru Cup season. With both teams locked on five wins after being overpowered by the fast-finishing Oslo West, Ås stayed strong in a low scoring battle against East to win their first ever Kenguru Cup.
The stage for the final encounter was set up by West Oslo, who fielded a very strong team and finally seemed to have their ship in order. In the first game, Ås showed early fight and could have counted themselves unlucky to be down by three goals at half time.
Both teams had had similar amounts of the ball, but West's class in front of goal was telling. Rene Damborg Jensen, Matt Stirling and newcomer Håkon Molvig showed an intense appetite for the ball, backed up by a willing band of West runners.
West, perhaps stung by the ignominy of its six game losing streak, played some of the best football seen in Norway this year, put the game beyond doubt early in the second half as the rain began to mist over Ekeberg. Amund Lundesgaard, Anders Thømt and Canadian Stephen Bell fought hard for the Battlers, who lost crucial hardman John Debenham to injury in the first half.
East, having watched game one and noticed West's tactics, started with belief. Its talented core group was full of running, and its Norwegian brigade such as Andreas Kristoffer Berge, Marius Wold and Hardy Hardsome brought their ever-improving games to Ekeberg.
The rainy conditions however made skilfull football almost impossible. The ball became slipperier and heavier, and while West had the ascendancy on the scoreboard, East stayed within striking distance.
The second half was an even wetter and slipperier affair than the first, and apart from a few sparks of brilliance such as Brage Blomdal's tackle and goal from a tight angle, it was a game played in the centre area for much of the half. Pearce, Roxby – perhaps playing his final game for East – and their East compatriots repelled West as best they could, but it wasn't enough.
West ran the game out with purpose, and finished an up and down season with its third straight win, much to the delight of coach David Stone and his players.
At five games each, with AFL Europe in attendance and the victory barbeque officially lit, the final game of the year, between East and Ås would decide the entire season. Whoever emerged triumphant would take the Kenguru Cup home.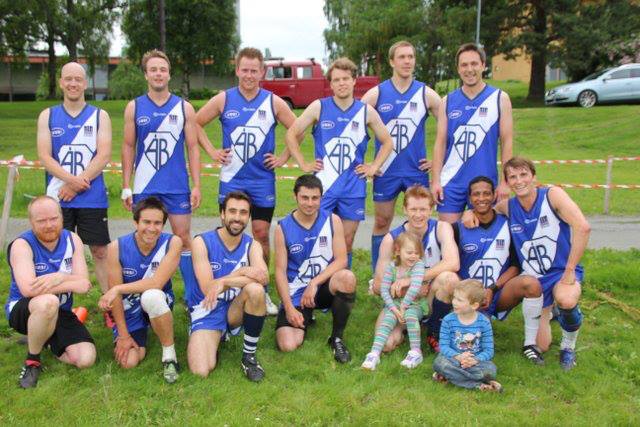 Ås had trained long and hard to go one step further than last year, where they had fallen agonisingly short in the final round. The intensity from both teams was immense early on, but it was Ås, fresh off a rest, who had more running in them. Neither team was willing to give away a single possession or millimetre of territory, and at half time Ås led by the smallest of margins, 0.1.1 to 0.0.0.
Thankfully the rain's disappearance and a new, dry ball lifted the skill level back up for the second half, which was balanced on a knife edge for the first few minutes. But after threatening many times only to be denied, Ås finally turned its pressure into goals. Coach Adam O'Toole and second game sensation Anders Ørnberg scored, and after a sensational solo effort by East's Marius Wold was denied by the goal post, it was Ørnberg again who scored in a desperate scramble close to goal. To top off the drama, he injured his leg while kicking the goal, but was still able to put the ball between the big sticks.
With only minutes remaining, a two goal lead was always likely to be enough, and so it was. Eivind Myrvold, Samson Langfeldt, Matt Baranski and the entire Batters squad held strong, and kept East out for the required time.
The final siren sparked jubilation on and off the pitch, as Ås players celebrated their first ever Kenguru Cup. Coach Adam O`Toole and captain Eivind Myrvold accepted the cup from AFL Europe General Manager Ben MacCormack, who had flown from London to see the season finale.
In true Australian spirit, the three teams, supporters and volunteers all shared a drink and a barbeque after the game, to celebrate what had been a highly competitive season filled with encouraging development by Norwegian players, and plenty of highlights.
In the end, the Battlers played consistent football through the season, and managed to win the trophy with a significantly smaller Australian contingent than the two Oslo teams. Their commitment to developing Norwegian talent has been rewarded, and they were worthy winners of the cup.
For West, the hypothetical standard of football they always seemed capable of finally happened, but it arrived once the season was over for them. East, strong as ever, were probably one solid half of football away from repeating as Kenguru Cup champions, but they were left searching for answers by a Battler's outfit that was better when it really counted.
Thanks for the season should go to the three coaches, Adam Pearce, Adam O'Toole and David Stone. Matt Baranski, Ben Marks and Matt Stirling were valuable contributors as umpires, and Nathan Roxby and many others contributed to training and social activities during the Kenguru Cup season.
The biggest thanks of all must go to Anette Smith, Oslo's professional, dedicated and good humoured trainer/nurse/medic/coach/motivator. Her contribution to the Kenguru Cup and to Australian football in Norway is valuable beyond description, and is hugely appreciated.
With the domestic season finished for 2013, the focus shifts to the AFL 9s in Portugal and the big Euro Cup event in Bordeaux. It's been a fantastic season, with one or two more highlights left to come!