Axios Euro Cup Team Preview - Finland Icebreakers
Tuesday, September 03 2013 @ 06:43 pm ACST
Contributed by: Aaron Richard
Views: 1,754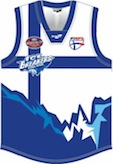 In the next instalment of our preview series on teams appearing at the 2013 Axios Euro Cup, we check in with the Finland Icebreakers. Assistant Coach from the national team, Mika Kupila, shared some information with us regarding the Icebreakers' preparations for the 2013 Euro Cup.
The Journey:
"Footy in Finland has been improving a lot since last year with skills improving on wide scale. We had a much larger pool of players to choose from for the trip to France, the team is a good combination of experience as well as first timers. We are definitely looking to improve our placing from last year."
"We still only have 4 clubs (Helsinki, Salo, Turku and Vaasa) but almost all teams have grown in numbers and seen a lot of new players experience the game. Turku Dockers have grown especially much and almost have enough players to for two teams. Salo Juggernauts on the other hand have been struggling somewhat with most of the team doing their mandatory military service."
"The annual, season starting FAFL Cup was played in Lappeenranta in Eastern Finland and the traditional finals event will be played in Tampere. Neither of these cities have an active footy scene yet, so the events work well in promoting the sport."
The Squad
"We have a good team this year with all players showing excellent skills. A couple of players to mention are Lasse Punttila and Tomi Keskinen, both out of Helsinki Heatseekers. Lasse is a powerhouse and has been dominating as fullback the whole season. He reads the ball really well is an important leader in our defense. Tomi again is a hard hitting on baller who attacks the ball like no one else. He's powerful, quick and has a wide background in different ball sports and will definitely be an asset for us with getting the ball."
The Goal:
"For the tournament, we definitely want to improve our last years position and finish in the top 4. We're looking forward to the tournament, it's going to be fun to catch up with everyone again."
"The 2014 International Cup is definitely another goal we have in mind. It's quite expensive to travel to Australia so we need a solid team of players to commit to taking the trip over, we're also trying to look for sponsors to help ease the financial burden."
The Squad
The Icebreakers squad was initially announced via Facebook, but has since changed slightly due to changing availabilities. The players now selected to head to Bordeaux are:
Antti Nurmikoski (Vaasa)
Jens Löfbacka (Vaasa)
Kaj Karlsson (Södermalm, Sweden)
Mika Kupila (Helsinki)
Fredrik Romar (Dublin Swans, Ireland)
Jukka Reiman (Salo)
Tomi Virtanen (Turku)
Juuso Timosaari (Turku)
Ville Koivunen (Salo)
Lasse Punttila (Helsinki)
Tomi Keskinen (Helsinki)
Ville Suominen (Turku)
Tom Browne (Helsinki)
Ville Saarinen (Turku)
Tero Salomäki (Turku)
Ilkka Poti (Vaasa)

Coach: David King
Assistant Coach: Mika Kupila
The Final Word:
The Icebreakers showed promise as an up-and-coming European football nation a few years back, fielding sides in the full-field 2008 International Cup and 2010 European Championships. However, they've been a little quieter on the international scene since then, and have been consolidating their domestic league over the past few seasons. By all reports, the Icebreakers have been improving, with the local Finnish guys holding their own against their league's Aussie expats in a recent practice match. Looking forward to seeing the side take the next step.