Falcons Soar Again in VWFL Premier Division Grand Final
Tuesday, August 13 2013 @ 03:33 pm ACST
Contributed by: Tobietta Rhyman
Views: 1,905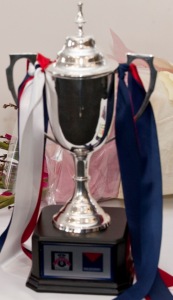 Darebin have defeated rivals Diamond Creek 14.7 (91) to 6.6 (42) in the 2013 VWFL Premiers Grand Final to end a record unbeaten season with the Susan Alberti Cup and the title of VWFL Champions.
The remarkable feat marks the return to glory for the former VWFL powerhouse who recently suffered subsecutive grand final defeats. The game was played at Coburg City Oval in front of packed stands of fans and was also streamed live on the VWFL YouTube channel
Grand Final day was kick started by the Premier Reserves match, which saw the up and coming Melbourne University team held to a single goal by the Eastern Devils. The final score was Eastern Devils 0.1, 2.1, 3.1, 4.3 (27) def Melbourne Uni 1.5, 1.6, 1.6, 1.7 (13)
Following the Reserves Finals, the Premiers Final got underway. As expected of these two powerful teams, the defence was strong at either end and despite having the best goal kickers in the league, the two teams went into the first quarter break with a goal a piece and one point between them.
In the second quarter Darebin quickly showed they had more to prove and added 5 goals to the scoreboard to the Creekers' 2, and went back into the dressing rooms at half time with a deserved 17 point lead.
From there on it was hard for the Creekers to break the Falcons' momentum. Darebin added another 3 goals to the tally during the third quarter, and despite Diamond Creek's efforts to stay in the game, they could only produce a single goal.
In the fourth quarter, the Falcons could taste victory and were determined to swoop down on the Creekers and claim the VWFL Champions throne. Darebin dominated the oval and added a further 5 goals to their score, including a Darcy Vescio hat trick.
Final score: Darebin 1.3, 6.3, 9.4, 14.7 (91) def Diamond Creek 1.4, 3.4, 4.6, 6.6 (42)
GOALS
Darebin: D. Vescio 3, S. Simpson 2, A. O'Connor 2, R. Privitelli 2, K. Brennan 2, J. Dal Pos 1, D. Pearce 1, J. Lange 1
Diamond Creek: S. Cross 2, L. Brazzale 1, C. Bernardi 1, S. Chiocci 1, B. Grech 1
BEST ON GROUND
Darebin: M. Hickey, D. Pearce, K. Paxman, D. Vescio, A. O'Connor, S. Hammond
Diamond Creek: D. Haines, S. Audley, S. Cross, T. Hetherington, L. Williams, A. Barden
Lisa Hardeman medal: Mel Hickey
Premier Reserves
GOALS
Eastern Devils: M. Aurisch 2, S. Perkins 1, N. Rappos 1
Melbourne Uni: R. Grounds 1
BEST ON GROUND
Eastern Devils: L. Grant, L. Snart, M. White, R. Buck, N. Rappos, O. Aing
Melbourne Uni: L. Murphy, L. Hodgkinson, M. Salafia, J. Wieselmann, R. Grounds, E. Tsiakalakis