Of Mountain Goats and Mammoths
Monday, July 22 2013 @ 09:04 am ACST
Contributed by: Wesley Hull
Views: 2,022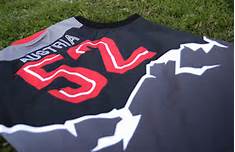 In our previous story An Avalanche of Austrian Talent about the rebuilding of Australian Rules football in Austria, Oliver Krajacic painted a picture of a re-birth of sorts, due mainly to hard work and a connection to the Karl-Franzens Universität Graz.
That was on the back of a hectic off-season which saw structural and planning changes for Austrian footy, but was also rather theory-based. The measure of success would be tangible progress and change for the better as the 2013 season wore on.
At this point, Oliver can fill in the blanks.
"Our president Martin Schittegg had come up with the idea of holding an Austrian championship of sorts after we picked up some new players throughout the course of the year. By adding some retired veterans, some interested newcomers and our new additions to the team, we managed to put together the Murtal Mountain Goats, Gradec Earthmovers and Castle Rock Mammoths."
"So, last Tuesday (July 16th) saw the first 9-a-side match between Austrian teams since 2010. Back then the Vienna Kangaroos were more of an international/Australian team playing in Austria. They were, however, kind enough to donate the old national team guernseys. To make things even better we didn't have just two, but actually three teams competing that day!"
"The task of dividing up players among the teams and organising game days was given to three players that have only been with the Styrian DownUnderDogs for a little over a year. Andi, Lukas and Michi did a great job motivating players to attend, be competitive on the field and, most importantly, have a ton of fun playing footy!"
"[Additionally] the recent Umpiring Workshop held by AFL Europe's Shane Hill at our field in Zwaring also made sure we had quality umpires and consistent calls."
"Here are the results of the day. It is interesting, and valuable, that each side experienced a victory on the day."
Castle Rock Mammoths 6 3 (39) d Gradec Earthmovers 3 7 (25)
Gradec Earthmovers 3 5 (23) d Murtal Mountain Goats 3 4 (22)
Murtal Mountain Goats 7 7 (49) d Castle Rock Mammoths: 2 6 (18)
Ladder:


| Team | Pts | F/A | % |
| --- | --- | --- | --- |
| 1. Mountain Goats | 4 | 71:41 | 173% |
| 2. Earthmovers | 4 | 48:61 | 78% |
| 3. Mammoths | 4 | 57:74 | 77% |
"There are at least two more game days planned in August, leading up to a possible training match for our national team (Austrian Avalanche) against the best of the rest. Things are definitely looking up for Austrian footy at the moment."
It remains to be seen whether or not this new momentum can carry into the future or not. But one thing is clear. In recent years, the demise of the Vienna Kangaroos and an overall drop in numbers had seen the game on the slide in Austria. Now, the nucleus of a potential 3 team (or more) competition exists.
Not only is there the ability to play for the Styrian DownUnderDogs against the Croatian teams in the formal competition, there is also the ability to play in and around that as a mountain goat, mammoth or an earthmover. Then, of course, there is the distinct possibility of fighting for spots in a much stronger Austrian Avalanche national team.
This, of course, prompts the distinct possibility of saying something unexpected.
"Go Goats..!!"