Season Review – AFL Italia
Saturday, July 13 2013 @ 07:31 am ACST
Contributed by: Wesley Hull
Views: 3,788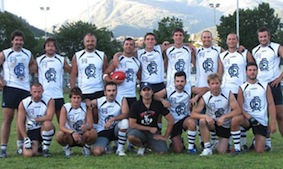 Cristiano Colizzi, Communications & Media Manager at the Roma Football Club, was justifiably excited when chatting about the 2013 season. His beloved Roma team had just won their second premiership in the four year history of the competition in Italy, so when the nuggetty Blue's back pocket was asked to tell a little more he decided to start…at the beginning.
"AFL Italia was born in 2009 thanks to Nicola Giampaolo and Armando Colombo, who started training some guys for a national (Italy) team. At the 2009 Euro Cup in Zagreb (Samobor), they placed 13th overall."
"Then, with Luca Tramontin, they started to involve some guys near Milan and Lugano (Switzerland). Meanwhile Marco Musella [made] contact with them and started building a team in Rome. On December 12th 2009, Marco founded the Roma Football Club (RFC), choosing colours and logo of the Carlton Football Club from Down Under."
"In 2010 [we] started the first Italian premiership with the Milano Footy Club, Roma Football Club, Genova Dockers and the Lugano Bankers."
Wherever Australian Rules football is played it is driven by people with an enormous passion and appetite for the game. Many compromises and sacrifices are made by many people to ensure the game gets off the ground and stays there. The situation was no different in Italy.
Cristiano continues by explaining that "As you can imagine, we play a 9-a-side game on rugby fields. We don't have any kind of sponsor. We pay for our own shirts, our training field, our trips and our after training beers (of course!). We (RFC) used to train from October to May. The season usually starts at the end of May and ends at the end of June (or beginning of July)."
One thing that is clear when chatting to Cristiano is his love of the game and pride in how far AFL Italia (and his own Roma Football Club) have travelled and developed in such a short time.
"The first premiership in 2010 ended with Rome winning the Grand Final against Milan, making Rome the inaugural Italian premiership team. Then, at the 2010 Euro Cup in Milan (Parabiago), Italy placed 6th overall. One of our Roma players, Sebastian Caffaratti, was named as EU Tournament Best Player."
"In 2011, Genova Dockers won the Grand Final against Rome. At the end of season 2011, Lugano quit playing in AFL Italia and started a new kind of league in Switzerland. At the 2011 EU Cup in Belfast, Italy placed 4th overall."
"[That same year] Roma Football Club played a friendly match against Cardiff Panthers in Rome. Also, Milano Footy Club changed their name and logo to Milano Footy Eagles."
"The 2012 season started with a triangle-cup between Genova, Roma and Milano. Rome won the first Italia Cup. [Later that year] Roma played a friendly match against London Swans in Rome. [The Italian season finished when] the Genova Dockers won the Grand Final against Milano. At the 2012 EU Cup in Edinburgh, Italy [was] confirmed the 4th place overall."
Which brings Cristiano to his look at 2013, and the journey of the Roma Football Club this year. "The 2013 Roma season of training started with determination to win again the title, because in 2012 we lost every match."
"After a few months, on January 13th 2013, one of our young players died in an accident on the streets of Rome. His name was Ludovico Bruschini. It was, unfortunately, motivation to start again to train for victory. We played a friendly match against Wandsworth Demons from London in Rome and lost by just five points."
"Then the season started. In the Rome match day, MIlano defeated Rome by 2 points. Genova didn't show up. In the following Genova match day, Rome 6 5 41 defeated Genova 5 6 36. Then Milano 6 5 41 again defeated Rome 3 7 25. Finally, Genova 9 8 62 defeated Milano 2 9 21. So, due to the not played games at the Rome match day (when Genova did not arrive), the Grand Final had to be played between the Roma Football Club and the Milano Footy Eagles."
"The show took place during the Rugby Festival in Fontanafredda (Pordenone, Italy), on June 29th 2013. Rome started with only 10 players (we play 9 a side). Milano were at their best with 15 players. Remembering that our last two matches were lost against Milano, and looking at the benches (we had one player, they had six), everyone thought it was easy for Milano to win."
"But no-one asked every single player of ROMA FOOTBALL CLUB what was in their hearts. They showed on the field that just 10 against 15 can work. Just one man can rest...but everyone of us had one more player inside. He was our friend from heaven, or wherever he is now: Ludovico Bruschini.
"We won the game from the beginning.
Quarter Time: Roma 4 2 26 – Milano 1 1 7
Half Time: Roma 7 4 46 – Milano 3 4 22
Three Quarter Time: Roma 10 7 67 – Milano 5 5 35
Final result: Roma 12 9 81 defeated Milano 5 6 36
We won our second premiership (of 4 played). We are the premiership winners for 2013. We are the CHAMPIONS!!"
So, next on the agenda will be an appointment in Bordeaux at this year's EU Cup. The short, but proud, history of AFL Italia will receive another chapter. If recent history suggests anything about the Italian sides it is to beware. This nation of passionate footballers is primed to take their first title.
The following video is well worth a look, as the Roma Football Club share their celebration with everyone through YouTube.