Cairns to host Suns v Tigers AFL clash
Tuesday, July 09 2013 @ 04:35 pm ACST
Contributed by: Wesley Hull
Views: 2,155

North Queensland will once again become the focus of the AFL world when Cairns hosts its annual Gold Coast Suns versus Richmond Tigers match at Cazalys Stadium on Saturday at 4.40pm. This is the main event, following on from the earlier NAB Cup match in Townsville pre-season between the Suns and Kangaroos.
This is a huge match for Cairns. Two weeks ago the northern city played host to the 2013 Women's National Championships. Now the Gold Coast, undefeated in Cairns after three starts (they defeated the Bendigo Bombers as an AFL side in 2010), get a chance to enhance their own slim finals chances and seriously threaten those of Richmond. Following is a media release from the AFL giving the details.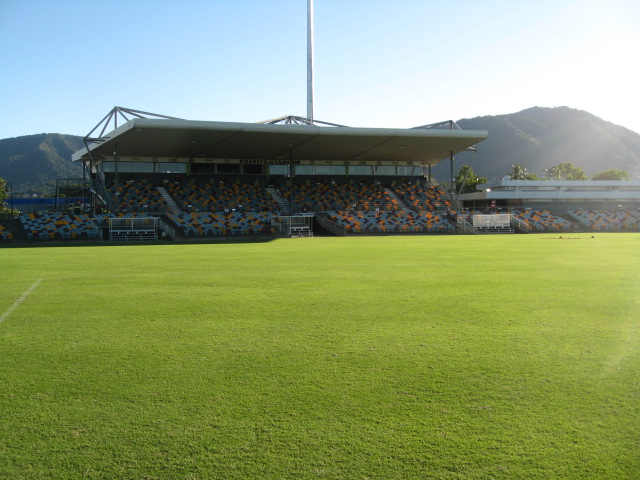 MEDIA RELEASE FROM THE AUSTRALIAN FOOTBALL LEAGUE
AFL will come alive in Cairns this week with a full program of community football and supporter events in the lead up to the Toyota AFL Premiership match between Richmond and the Gold Coast SUNS at Cazalys Stadium on Saturday, 13 July.
AFL Commissioner Sam Mostyn, Gold Coast SUNS CEO Travis Auld along with players Michael Rischitelli and Jack Martin travelled to Bamaga and Thursday Island yesterday. The group will spend three days with communities in the Cape delivering the No Boundaries program with staff from AFL Cape York.
Now in its third year, the program is supported by the AFL and the Gold Coast SUNS and uses Australian Football as the vehicle to encourage and reward attendance at school, community participation, leadership development and promotion of a healthy and active lifestyle for young boys and girls from the region.
Over 300 students from 12 Tropical North Queensland schools will converge on Cairns on Thursday for a three day competition to be played at Watsons Oval. The North Queensland Secondary Schools Cup is a round robin competition with the grand final played as the curtain raiser to the Toyota AFL Premiership match on Saturday at Cazalys Stadium. The opening day of competition will see a visit from a Gold Coast SUNS player and all students will also take part in a Try-A-Trade expo as part of their week in Cairns.
On Thursday, a Gold Coast SUNS player will tour the recently opened AFL Cape York House in Cairns. The new facility provides up to 48 years 8-to-12 indigenous students from Far North Queensland with a place to live and learn while they complete secondary schooling.
Richmond player Daniel Grimes, assistant coach Justin Leppitsch, Gold Coast SUNS coach Guy McKenna and player Zac Smith will help in delivering a coaching and leadership session to the North Queensland AFL community.
On Friday, AFL fans in Cairns will have plenty of opportunities to meet players and officials from Richmond and the GC SUNS. The main attraction will be the free AFL Fan Day at Cazalys Stadium from 3pm until 6pm. Featuring team training sessions, autograph signings with both Richmond and GC SUNS players, the AFL Playground, a SEA FM broadcast and team merchandise stalls, it will be a great afternoon for fans of all ages.
Saturday will be a full day of AFL action with the Grand Final of the North Queensland Secondary Schools Cup kicking off at Cazalys when gates open at 2pm. The Round 16 match between Richmond and the Gold Coast SUNS will start at 4.40pm.
There are still plenty of general admission tickets available for the Toyota AFL Premiership match. Patrons are encouraged to buy now to avoid the queues and take advantage of the free public transport. Tickets are on sale from Cazalys Social Club,
http://www.ticketdirect.com.au
or by phoning 1300 798 550. Prices start at just $22.50 for adults and $5.00 for kids 15 years or under. Booking fees apply.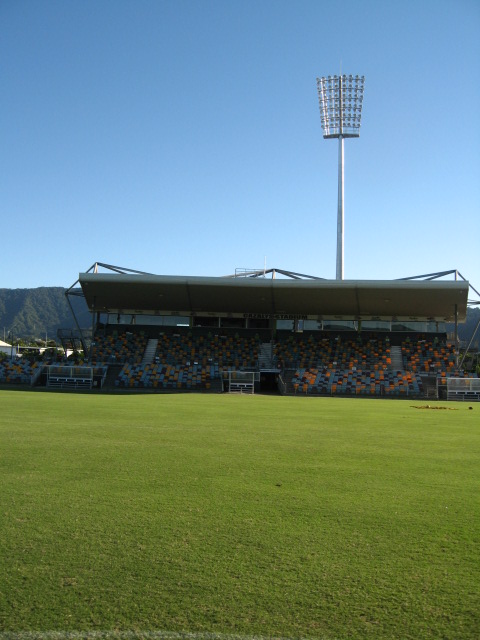 For information about the match, public transport and parking visit
http://cairns.aflq.com.au
or call 07 4042 3000 during business hours.
The Toyota AFL Premiership match between Richmond and the Gold Coast SUNS is supported by the Queensland Government, through Tourism and Events Queensland, as part of a growing calendar of sporting, cultural and regional events across the State.