Arafura girls make their mark
Tuesday, July 09 2013 @ 11:31 pm ACST
Contributed by: Wesley Hull
Views: 3,271

The name Arafura is an indigenous word to the original people of the Moluccas which loosely means "children of the mountains" or "people of the mountains". It's modern application is that of the name of the Arafura Sea which is a body of water bounded by northern Australia, Papua New Guinea, Indonesia and East Timor.
In footballing terms it is the name of the women's Australian Rules football team comprising players from the Northern Territory, North Queensland (Cairns) and Papua New Guinea. The women who made up this side represented their countries and states with honour at the recent Women's National Championships, held last week in Cairns.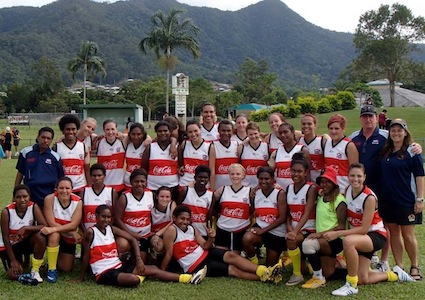 This is the first incarnation of this team, and it may yet be the last depending on how various state teams can prepare before the next carnival in 2015. If this sounds a little confusing, then it is time for their coach for the event, Andrew Cadzow (better known to many as the AFL Asia Pacific Development Manager), to provide some clarity.
"The Northern Territory team was a non-starter. They pulled out due to funding. At the last minute we put together a team which included four of the Northern Territory girls, 12 from PNG and the rest from Cairns. It was a great opportunity to play, but difficult with only really a day to prepare compared to the other teams who had been training for up to six weeks."
So, given that this team was created almost out of thin air at the eleventh hour, could they possibly be competitive at the highest level of women's Aussie Rules in the country? Again, Andrew explains. "I was keen to coach the girls to give them the most opportunity at this level. Overall, the girls were not disgraced. They performed well. There was a balance between experienced players and new faces. Whilst the scores reflected some big losses, the girls improved markedly the further they went."
"They listened and they wanted to be coached, which made the job easier. There were many girls who were new to the game that played well and learned as they went. Depth is crucial to teams, and eventually a lack of depth told."
So, after this, is an Arafura team the way to go for the future? Andrew does not believe so. "It is important that the Northern Territory side return to a stand-alone team. The girls from North Queensland can still be part of the pathway to the Queensland State team, which is a better development pathway for them."
"The opportunities are limited for women's teams across the South pacific. New Zealand has just started, and Fiji has just started. The five best PNG girls have played at the Queensland State Championships, though a team of PNG girls are hoping to be at the International Cup in 2014. It is better that the girls play in the Queensland State championships until a full PNG team is viable, as finances and ability to travel impact on their opportunities."
So, as it stands, the Arafura team has created history, but may now be consigned to the history books, at least for now. But the girls who were part of that historic squad can be proud of their efforts and look forward to the opportunities created by their experience as Arafura representative