AFL Academy splits with AIS
Monday, July 08 2013 @ 06:32 am ACST
Contributed by: Brett Northey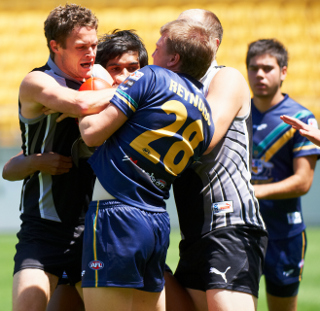 A major feature of the AFL's involvement with international footy has been the annual overseas tour conducted by the AIS-AFL Academy side. The AIS (Australian Institute of Sport) is a Federal Government initiative primarily aimed at raising the standard of Australia's Olympics hopefuls, so it was always a slightly odd connection to include an Australian football contingent, but one that was no doubt carefully orchestrated by the AFL for the monetary assistance, elite training and attraction for elite young sportsmen.
That relationship has come to end. It was announced last Monday that the 2013/2014 intake will be the last to hold the AIS-AFL Academy title.
The AIS has sharpened its focus on the Olympic sports, signalled by the Australia's Winning Edge high performance strategy released last year targeting world-class results.
But the AFL will continue with the important plank of its talent pathway, likely under the working title of the AFL National Academy, and will continue to receive funding for the program from the Australian Sports Commission. The AFL is keen to continue the close association it built with a number of staff at the AIS and much of the essential elements of the Academy, such as training at elite facilities will remain. Critically for world footy it has been reported that an international tour each program will also stay, despite a perception that in part the matches were primarily to satisfy the AIS requirement of international competition.