From Ireland to New South Wales – Three Women's Odyssey
Saturday, July 06 2013 @ 04:17 pm ACST
Contributed by: Wesley Hull
Views: 3,636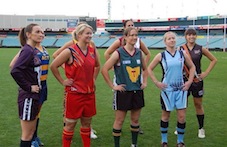 On a beautiful Saturday in Cairns recently, I was told about three women playing for New South Wales at the 2013 Women's National Championships. The three ladies in question had all come a long, long way to be there, having started their Australian Rules football journeys many years before back home in Ireland. I was given the chance to meet them and have a chat as we watched the Division 2 Grand Final.
It was the New South Wales Assistant Coach, David Yole, who introduced me, but not before a couple of words. "They have all played well this carnival," he said. "They are three great young women." Then he proceeded to call them up to meet me. It is difficult to conduct a true interview when sitting in a grandstand, and the crowd periodically screams their approval at a mark, goal, tackle or burst of speed. So, it is true that the questions asked that day did not have complete answers.
We agreed to fill in the gaps via social media when the girls returned to Sydney after the carnival. But the questions can be found below with the individual responses of Una Mckay, Sandra Ryan and Christine McCutcheon, who are not only known here in Australia as members of their Sydney teams and the state squad, but also members of the Irish Banshees international team back in their homeland.
To me, these answers made fascinating reading as they give a great analysis of the thought processes involved, and the opportunities, sacrifices and successes faced along the way for almost any sports player, but particularly women chasing their dreams of playing Australian Rules football.
Question 1: Can you recap your journey from Ireland to New South Wales?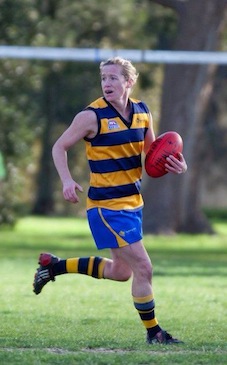 LEFT: Una McKay
Una Mckay – "I came to Australia for six months work experience and it had been mentioned to me that women play AFL, so I was keen to try it out. I was introduced to Limerick Camogie and AFL player Marie Keating (twice all Australian). She invited me to a new team's training – [they were] called the Shamrocks. I learnt the base skills and game play and managed to try out and make the NSW 2009 state team after a few months of training. We travelled to Perth and reached the Division 2 finals (runners up to SA). Playing for a great bunch of girls in the Shamrocks and the NSW squad made me want to stay longer and play for a few years." "I was lucky enough to get the NSW Player's Player [award] at Perth nationals and the "Rookie of the Year" for NSW on top of really enjoying the challenge of the new game."
Christine McCutcheon – "I was heading out to Australia in December 2011. After a few months travelling around I set up base in Sydney and starting working and playing Gaelic with the Central Coast GAA club, through this I got to know Sandra Ryan, who was very involved with the UTS Shamrocks Women's AFL team. She told me they were looking for players and to come along to training. I was a bit hesitant as I didn't know all the rules and was still a bit 'foreign' to the sport. But she persuaded me by saying 'You'll be grand, sure. It's just like Gaelic but with a funny shaped ball and a bit more tackling'. I went along to training and played my first game the following weekend, I instantly lived the game, with the challenge of learning something new and the very friendly and social atmosphere at the club I was hooked. I managed to get awarded with the 'Golden Boot Award' and 'Best and Fairest' at the end of the year.
This year I have become much more involved as a committee member. It was through our coach at the time, Daniel Stanton, that I got introduced to Tracey Kick and started training with the NSW side. So roughly about a year after my first game of AFL with the Shamrocks I was lucky enough to make it to Cairns for nationals and play against and alongside some of the best players in the country. Playing with the Blues against teams of such a high standard as Victoria, WA and Queensland was a great experience."
Sandra Ryan –" In 2010 my coach put me forward to take part in a development program which SWAFL (Sydney Women's AFL) were organising. From there the 2011 NSW squad was selected to represent NSW in the Adelaide Nationals and I was privileged to be a part of it. We went on to win Division 2 and be promoted to Division 1 for the 2013 Nationals. After 18 months of training prior to the games I was lucky enough to represent NSW for a second time."
Question 2: How did you first come across the game and why or what got you to give it a go?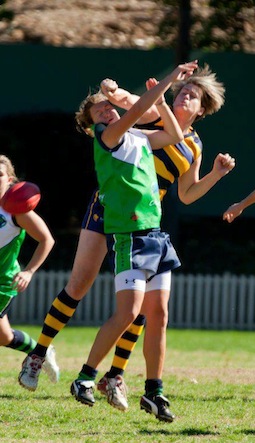 LEFT: Christine McCutcheon
Una McKay – "I gave Australian Rules a go as I always enjoy a new sporting challenge and had watched it on television back in Ireland. It is also a great way to settle and get into a work/sport life balance." "In Ireland my background base was athletics, with both my twin sister and father being very good. When my school and home town club team introduced a girls Gaelic football team at 16 I started to play. GAA and athletics are excellent sports in Ireland-Especially Gaelic games as the ladies strategic and operations development plans including the player pathway model focuses on fundamental skills and holistic development from 4 year olds to Gaelic for mothers and many other community participation development initiatives. I remember travelling to All Ireland finals with a range of 20-40,000 in attendance just to see the women play and their high skill levels. It would be excellent to see this replicated here in Australia. Well over 100,000 women play Gaelic football alone. It's a strong traditional sport ingrained in society. It's a sport for all the family as it was built on parish rule which means you had to play for your village or town. This instils healthy club/ school links, rivalry and a string sense if pride and culture therefore fuelling a good participation coaching and volunteering base. "
Christine McCutcheon – "I grew up in Cavan, Ireland playing Gaelic football from an early age, probably around 5 years old. At underage level we played with the boys but as we grew older the ladies game was becoming more developed and at Under 14 and Under 16 level we were able to play with all girls teams. I played for my local club, my county Cavan, my school and in University. In 2011 I went to one AFL training session in Dublin with one of my mates who had previously spent a few years in Australia. And this was my first introduction to a Sherrin, which I soon learned was extremely different to kick, catch and bounce than an O'Neill's ball which is used in Gaelic. My County Gaelic football team Cavan were having a good year this year also and we were on track to make national finals (which we did but lost in a replay). Unfortunately due to commitments with that I never made it to my second AFL training session with the Dublin Angels AFL."
Sandra Ryan – "I played a little Gaelic football back in Ireland as well as over here in Australia. In 2008 I got involved with the International (Compromised) Rules game against Sydney's AFL teams. After the game I got chatting to a friend of mine, Marie Keating, who at the time was playing both AFL and Gaelic football. She said she was setting up an Irish based AFL team called the Shamrocks and they were recruiting players. I've been playing with the Shamrocks ever since."
Question 3: Where do you place Aussie Rules (AFL) against other codes in terms of enjoyment, skill and fitness?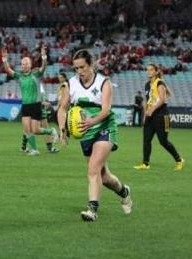 LEFT: Sandra Ryan
Una McKay – "AFL is distinct as it has 18 positions to suit all ability levels. With a large panel you are guaranteed to get a good run out and meet lots of different personalities and new friends along the way. The camaraderie at Sydney University Bombers women's club is extra special. They are my Australian family and we work as hard for each other off the pitch as on it."
Christine McCutcheon – "I definitely think AFL is up near the top of the list in terms of fitness. I know personally my fitness has greatly improved since I started playing. It covers all different aspects of fitness [including] speed, endurance, strength, stamina, plus with the high physical aspect of the game you really need to be physically fit to enjoy the game and play to your full potential. It is similar with the skill level as there are so many different aspects and skills involved you need to have a really high skill level, especially as you are performing these skills under pressure. I think the enjoyment to be had from the game is massive. For me personally having played Gaelic for so many years I really enjoyed the challenge and rewards involved in learning new skills and adjusting to the game and doing something new. It is great to be able to train hard as a team and constantly develop skills and fitness. The social side to AFL is also great. Being in a different country so far away from home, my club the UTS Shamrocks has been a massive influence on the time I have spent in Australia so far. It has been great off the field for socialising and making friends and lots of nights out and other social activities and we have a great social atmosphere at the club."
Sandra Ryan – "I love the physicality of AFL. Gaelic football is a faster paced game but the physicality requires a different level of fitness. Like all sports you need to be able to rely on your team mates and communication is very important. This is essential in AFL. Because you can be tackled from all angles if you don't communicate with your team mates you'll probably get smashed. This is another reason why friendships grow so strong amongst the team. You depend on each other."
Question 4: Is there anything you could take back to other girls (or boys) in Ireland to fire an interest in the game?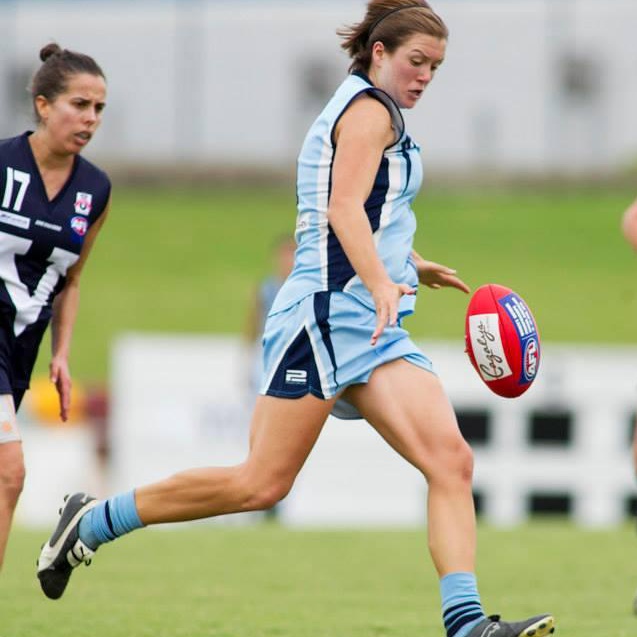 Left:Christine McCutcheon
Una McKay – "Transferable skills from Gaelic football are handballs, catching and kicking. Australian Rules isn't as fast as GAA as the flight of the ball is slower than the round one which is great for older players like me who can't keep up with the younger ones. I prefer the Australian Rules evasive and invasive movements, and kicking skills are much more specialised also. I guess Aussie Rules is a fusion of rugby athletics and Gaelic football. It would be a good game to introduce when the cricket pitches aren't being used in Ireland. I'd say a few national sports organisations (NSO's) would need to run combined sports camps, or possibly 'Have a Go' school's sessions."
Christine McCutcheon – "Things to take back to Ireland? I guess the main thing I would take back would be a passion for the game. Also, the experience of playing on the NSW team and playing for the UTS Shamrocks and the knowledge I have learned from this. [Additionally] there are different approaches to trainings and games and the general running of the clubs. Although a lot of things are done very in a very similar way, there are constantly new and improved ideas and different ways of doing things."
Sandra Ryan – "The UTS Shamrocks (previously known as Bondi Shamrocks) have seen quite a lot of Irish as well as other international players come through the club while living in Australia. Some of the Irish players have gone back to Ireland and continued to play AFL with some of the Irish clubs. I do plan to eventually go back to Ireland, it might take more than a few years but eventually and when I do I hope to remain involved with AFL at home. I've been strongly involved with the running of the Shamrocks since it was founded and would love to take this experience home to Ireland. One of the hardest obstacles is probably promoting the game, especially as a women's sport so that would be something I would have to focus on if I was to try help grow AFL more back in Ireland."
And a final word...Leiha Shrubsall, fellow World Footy News writer and the Women's President for ARFLI (Australian Rules Football League Ireland), as well as founding member of the Dublin Angels team, amongst other achievements, has this to say about the girls. "I think all of them are outstanding players. [They would be] assets to any team. New South Wales would have been pleased with themselves selecting these [girls]. It's fantastic that Ireland has so many representatives at state level. Hopefully we will see these three represent Ireland at the next international cup, too."