The Mob Goes Wild – Kingdom Kangaroos
Thursday, July 04 2013 @ 05:41 pm ACST
Contributed by: Wesley Hull
Views: 3,589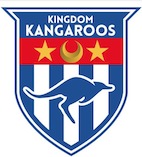 This Scottish club, better known to most as the Central Magpies, have been sitting on a secret for a while now. As the football world has turned all around them, a new image, name and purpose has been developing in the Kingdom of Fife. This article, written by Rab (Robert) Dempsey has been reproduced with his, and the club's, permission to spread the word to the waiting footballing world.
THE MOB GOES WILD
By Rab Dempsey
Kingdom Kangaroos are Scotland's newest footy team, hoping to emulate the "Shinboner" spirit of their North Melbourne counterparts when they officially join SARFL next season.
The early origins of the club can be traced back to 2012 when former Glasgow Sharks and Scottish Clansmen player Douglas Hunter tried to start a club covering Central Scotland and Fife.
Whilst SARFL had been running for years, the competing teams were only based in Edinburgh, Glasgow and Aberdeen.
After a few false starts the Central Magpies were born and in early 2013 and indoor training (due to the slightly unpredictable weather) began with a hardcore of 6 players attending most weeks.
Over the coming months a mixture of complete beginners to the sport coupled with some grizzly SARFL campaigners helped to swell the numbers and by April there was a large step taken when 2 of the Pies established links with Tyne Tees Tigers by guesting for them in the annual Haggis Cup played in Edinburgh.
This gave the club a massive boost and in subsequent months players were able to take their first competitive steps into the sport by representing Aberdeen Eagles and Edinburgh Bloods in the highly competitive SARFL.
The recruitment drive continued and the numbers at training continued to grow as did skill levels, at this juncture it was evident that The Kingdom of Fife was providing the majority of the players and a real community spirit was starting to grow within the club.
It was in June that the club received a massive boost when they were able to cement links with AFL club North Melbourne Kangaroos when they were received a set of guernseys from the Roos and at this point the decision was made to rebrand themselves as Kingdom Kangaroos.
The Roos count themselves almost unique in that their current playing squad of 16 only contains 2 Aussies, showing that the hard work put in by the coach and committee has paid off and surely will continue to grow as a sustainable club long after the current squad have hung up their boots.
The aforementioned links established with Tyne Tees Tigers will be further strengthened when the Roos travel to Newcastle on August 11th for their first ever fixture.
For more information, email "info AT kingdomkangaroos.com", or visit the following links:
www.kingdomkangaroos.com
www.facebook.com/kingdomkangaroos
www.twitter.com/fifeafl
www.youtube.com/kingdomkangaroosarfc