PNG Star at the Cutting Edge of Women's Football
Monday, May 06 2013 @ 08:56 pm ACST
Contributed by: Tobietta Rhyman
Views: 3,048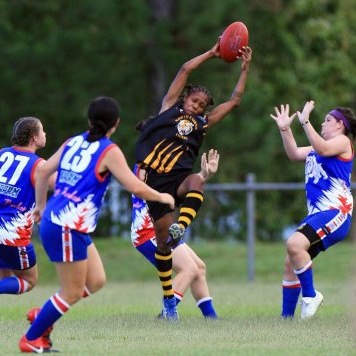 Ruby Leete is a well known name in women's football in the north of Queensland. The Papua New Guinea born star grew up in Port Moresby and moved to Australia in 1996. Once settled in her new home of Cairns, she soon picked up the Aussie sports bug, first playing tennis, then netball, then rugby league. However it was only in 2009 after someone at her rugby club invited her to have a go that she got hooked on AFL.
Leete learnt her trade under premiership winning team North Cairns Tigers, and supported by her netballer's jump and firm hands, the club continued to dominate week after week in the growing Cairns league. However, after playing for the Tigers for two seasons, Leete eventually decided to switch to her current team, South Cairns Cutters.
"My reasons for leaving were to help make numbers for a club which struggled most weeks to field a team," she says. "It taught me a lot. One thing I've learnt is, it's not all about winning but enjoying the sport and trying to encourage women of all ages to have a go."
Leete was hoping to try out for the Queensland state team ahead of this year's Women's National Championships, but unfortunately had to pull out due to injury. However, she hopes to be back on her feet in time for the International Cup.
"I hadn't thought about playing with the PNG Women's AFL team," she admits, "but it would be a great honour to. I will definitely find out more about it and see how I can qualify for it. It would be unreal to represent my country!"