Wellington turns out for historic match
Thursday, April 25 2013 @ 05:56 pm ACST
Contributed by: Brett Northey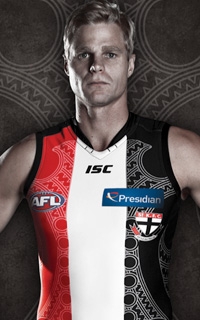 The historic first match for AFL premiership points on foreign soil was a great success with relatively good conditions, New Zealand winning the curtain raiser, a great deal of publicity for the sport, and 22,546 people coming out to see a tight game of footy. Obviously a lot of match reports in the mainstream media, and articles about the whole week from our man on the ground Rod Shaw, but here's a quick wrap of some of the other interesting points around the game.
Not widely discussed was that the Saints wore a specially designed jumper for the occasion (pictured left). Prior to the match the Saints' website reported that the guernsey acknowledges New Zealand's heritage with Maori art patterns, and reflects our shared history across the Tasman.

"Given the historic occasion, we were keen to appropriately recognise New Zealand on our iconic Saints playing uniform," St Kilda CEO Michael Nettlefold said.
"We are honoured to have Derek Lardelli bring this concept to life for the club. We are incredibly appreciative of the efforts of Toi Maori Aotearoa in assisting the club in this process and we are delighted with the end result. We can't wait to show the jumper at Westpac Stadium next Thursday night."

"The guernsey is available for sale at the game and we'd love to see as many of them as we can in the crowd as our players take to the field."

Renowned New Zealand artist Derek Lardelli designed the guernsey to highlight the link between Australia and New Zealand.
The teams will played for the Simpson Henderson trophy which was be presented by New Zealand Prime Minister John Key.

Private John Simpson (Simpson and his donkey) served with the Australian Army Medical Corps and was killed in action at Gallipoli. Private Richard Henderson, a stretcher-bearer in the New Zealand Medical Corps, took over from Simpson.

The trophy acknowledges two men who embody the Anzac spirit. Both are part of the enduring image of carrying wounded on the back of a donkey during the Gallipoli campaign.

Private John Simpson served with the Australian Army Medical Corps in the 3rd Field Ambulance from the time of the Gallipoli landing on April 25 1915. He was killed in action by machine-gun fire while carrying two wounded men on his donkey on May 19.

Private Richard Henderson, a stretcher-bearer in the New Zealand Medical Corps at Gallipoli took over from Simpson. He survived the war and was later awarded the Military Medal for his service on the Somme battlefields. Henderson survived the war but was badly gassed in Belgium and was discharged in 1918. He remained in poor health for the rest of his life and died in Auckland in 1958.

AFL International Development Manager Tony Woods said the trophy represents the link between the two countries and the spirit of the match.

"A big part of bringing AFL to Wellington on Anzac Day is to acknowledge the long and unique history that Australia and New Zealand share," he said.

"It was critical for us to identify an iconic image with an extraordinary back story that reflects this."

The perpetual trophy was created by the Royal New Zealand Returned and Services Association.

Dan Hanneberry, Sydney, was awarded with the Anzac Medal, which is given to the player who best exemplifies the Anzac Spirit; skill, courage, self-sacrifice and fair play.


ST KILDA 3.1 5.3 6.6 9.9 (63)
SYDNEY SWANS 3.3 6.7 9.13 11.13 (79)
GOALS
St Kilda: Riewoldt 2, Montagna 2, Koschitzke, Ross, Dennis-Lane, Geary, Steven,
Sydney Swans: McGlynn 2, Parker 2, Bolton, Kennedy, Richards, McVeigh, Jack, Goodes, Mumford
BEST
St Kilda: Riewoldt, Hayes, Steven Gilbert, Montagna
Sydney Swans: Hannebery, Parker, Kennedy, McVeigh, Jack, Bolton, Armstrong
Official crowd: 22,546 at Westpac Stadium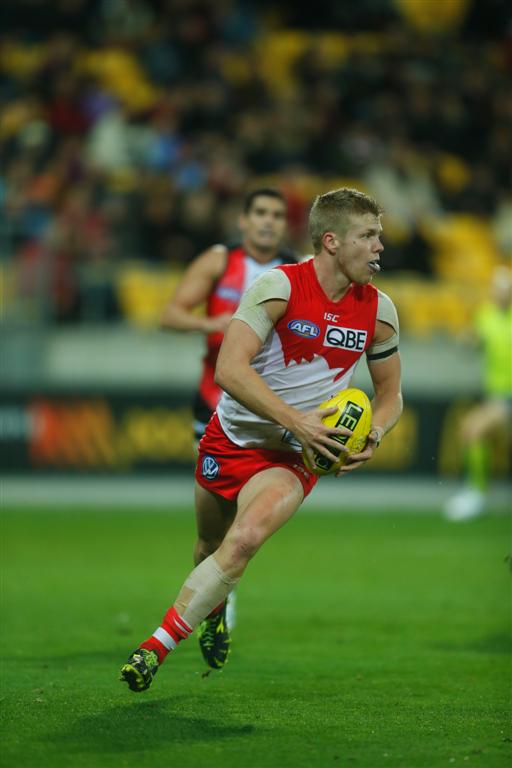 Dan Hannebery, photo courtesy of AFL Media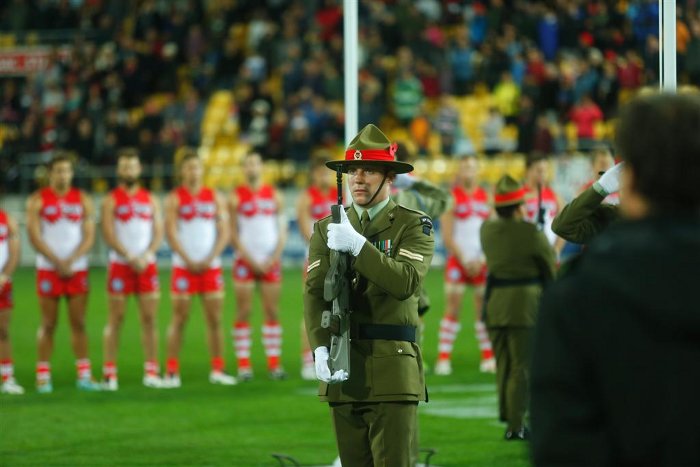 Observance Ceremony, photo courtesy of AFL Media
Comments (0)
---
World Footy News
http://www.worldfootynews.com/article.php/20130505215624646