South Pacific gain focus leading into Anzac Day clash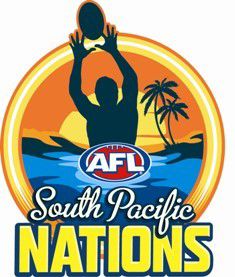 With the AFL's first internationally staged match for 4 points set for Thursday (Anzac Day) in Wellington in New Zealand – the Australian media in particular has had their focus upon New Zealand and the South Pacific for a change. Certainly a change from tanking, drugs, coaches, Buddy's contract, Melbourne FC in general, etc etc. With the focus there has come some nice reports around junior development in the region. In the Age Peter Hanlon writes about Vanuatu's Kilip Andrew ( South Pacific sings a new tune ) who will represent the South Pacific against the NZ Hawks in the curtain raiser on tomorrow.
And from TV last night came a report on ABC's 7:30 AFL contests possession in All Blacks country looking at footy in New Zealand with a focus on Siope Ngata who is in the squad to be reduced to 25 to represent South Pacific in Sydney in July in the NAB U/16 national championships.