Villers-Bretonneux to host the 5th ANZAC Cup
Saturday, April 13 2013 @ 11:00 pm ACST
Contributed by: Olivier Tresca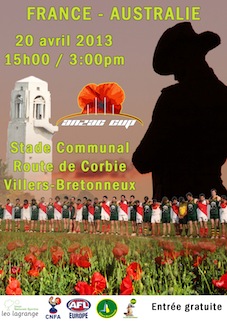 The fifth edition of the ANZAC cup, organised jointly by France's CNFA and AFL Europe, will be held this year on April 20th in the village of Villers-Bretonneux.
The game which sees France take on Australian expats, is now a well established feature of the ANZAC celebrations held each year in northern France thanks to the great support from the local community. This year the australian TV channel Seven News will be covering the game for the "Sunrise" show to be broadcast on April 25th before the Essendon-Collingwood game.
Although previous editions were played on a full sized oval, this year's confrontation will follow the 9 a side format so common in Europe. This change in format is only due to the cost of renting the field previously used as the oval. Thomas Urban hopes the CNFA will be able to gather enough funds to get the game back to full format for next year's centenary of the start of World War I.
After some difficulties in the past in finding players for the Australian team, AFL Europe is pulling out all the stops to make sure it assembles the best team possible. As usual, France will use this game to test its national side against some tough opposition and hope to hold on the cup they won last year.