An Avalanche of Austrian Talent
Wednesday, March 27 2013 @ 09:46 am ACDT
Contributed by: Wesley Hull
Views: 1,897

"Well, where to start?" begins Oliver Krajacic, captain of the Styrian DownUnder Dogs in Graz, Austria. "Apart from restructuring internally, we finally managed to organise an Australian Football course in cooperation with our local university. The 25 spots were gone in about three weeks, and the prospect of adding that many potential regular players to our sport is just an extremely positive turn of events for us."
Such is the manner in which Oliver almost breathlessly extolls the excitement of an off season which may forever change the fortunes of Australian Rules football in Austria. Oliver puts it in this light: "If no more than 5 or 6 players from that course turn out to be EU Cup material, we might finally get some competitiveness going. People fighting for a spot on the team for interleague matches or the EU Cup. That's something we'll have to get used to. Heck, practice sessions with possibly two full teams being available were the stuff of dreams in recent years."
This is a veritable avalanche of players when compared to previous seasons, but it hasn't all been beer and skittles over the past couple of years.
Oliver has certainly watched from a close distance as Australian Rules football started to ebb away before these latest positive changes.
"If you check our placements in the Euro Cups of the last few years, you'll notice we didn't do very well. All our struggles can be (more or less) traced back to a single problem: a lack of players. For the last three years (and before that, but I've been involved only for that long) we were constantly struggling to get a decent number of people to practices. Six players would already be considered ok, ten was a success, and our core players were almost universally close to or above 30 years of age."
"Without the Vienna Kangaroos we were also lacking an opponent of comparable level to play constantly and earn experience for our understaffed team. The Interleague with the Croatian teams from Zagreb certainly was an improvement, but we were rarely able to field all of our better players to be somewhat competitive. Games against the Croatian national team were usually brutal blowout losses for us."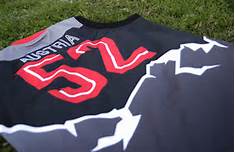 "Don't get the wrong impression though. We are insanely grateful for the support and friendship of the teams from Zagreb. They are an all-around super friendly bunch, very helpful and without a hint of arrogance. They have time and again provided help with coaching, especially when we were starting out with our current team and always tried to be encouraging, even after they trashed us on the field."
It is clear from Oliver's descriptions at this point that Australian Rules football in Austria was on a slide in the wrong direction. Something or someone had to become the catalyst to turn the nation's footballing fortunes around. Enter DownUnderDogs president, Martin Schitteg.
"Before [our restructure] our president, Martin, basically did everything. Despite welcoming an adorable little boy to his family and being somewhat occupied with that, he still poured his heart and soul into the club. Without him, footy in Austria would have died and been forgotten when the Kangaroos ceased to exist. [We are all] very thankful for his commitment to the club and the sport."
But this recent connection with the Karl-Franzens Universität Graz, and the interest generated by the Australian Rules football course, might just prove to be the turning point for the game in Austria. Certainly Oliver sees this development in a positive light.
"So we kind of have high hopes for this year, both as a club and as a national team. I don't think we can be really competitive internationally for a few years [yet] though. Even if all the students that signed up are amazing athletes, you need to play the game to get better at it."
"However, more players means more friends and relations that hear about the sport, which, in turn, means more potential new players or even teams, a higher profile for the sport in our province and country, and that certainly is encouraging."
Oliver paints a picture of renewed optimism for the game in Austria. Despite a variety of hardships over the past few years, it appears that the darkest days might be over and a new dawn is about to rise over Austrian Aussie Rules.
And that can only be good for the game, both in Austria and across Europe.
Team Austria - the Avalanches

The DownUnderDogs of Graz, Austria, together with their Croatian rivals