Iberian Snapshot – Spain, Portugal & Catalonia 2013
Tuesday, March 26 2013 @ 06:35 am ACDT
Contributed by: Wesley Hull
Views: 1,713

As the new Australian Rules season dawns for most European countries, various hibernating footballing leviathans emerge from their winter slumbers. One such region is the Iberian Peninsula where footy lovers in Spain, Portugal, Catalonia and Andorra prepare for the 2013 season.
The love of the game has not necessarily translated to large numbers in these countries, nations and principalities, meaning that regular fixtures are difficult. But that hasn't stopped the intrepid few from generating interest to keep the code's flag flying.
SPAIN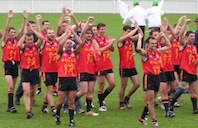 According to Dani Ribas, the communications contact for Australian Rules football in Spain, the 2013 season will not see new growth, but a consolidation of the game from last year. "Unfortunately there's no league in Spain [or] new teams, although we are working on that. It's hard to recruit new people if you cannot promise them regular matches against other teams. But we do interesting things: we are near to arranging the first match between Madrid Bears and Lisbon Dockers in Portugal and also a friendly tournament in Catalonia in spring."
Dani adds, "[We have the] Bears in Spain and Dockers in Portugal (9's teams). In Catalonia there are a couple of teams but they don't have a league either. We would like to play Lisbon, Madrid, Catalonia and Andorra in the same league, but distances are too long and [as it stands now] we couldn't afford the travel expenses without any financial aid."
Nevertheless, those dedicated numbers of people who want to see the game flourish one day are working hard to ensure games of some sort go ahead. It will also be interesting to see whether Spain can again have a team at the Euro Cup in 2013. Early indications are that numbers are low and this may prevent a team from forming. However, given that the location is Bordeaux, it is possible that a Spanish side may yet get there.
PORTUGAL

The updates from David Valente, the president of Futebol Australiano em Portugal, suggest a similar situation this year in Portugal.
According to David, "Currently we're starting to train again, after having stopped for winter. We don't have access to proper grounds, so we must use public parks, without adequate draining. Therefore, when it rains our training ground becomes a proper 'gluepot', as they used to have at the Western Oval or at Glenferrie all those years ago.
We're still in touch with the Madrid Bears and hope to play with them sometime before the end of the spring."
On the positive side, David points out , "apart from that, people are still coming forward showing interest in playing, so our group is growing. Hopefully it'll grow even more now that the AFL season has started and games are on TV again.
I'm sure the game against Madrid will bolster interest and that some people that only practice irregularly now will become more committed."
Getting the players on to a field is one challenge, but the Lisbon Dockers are also finding access to suitable equipment difficult. As David points out, "basic materials are scarce, though, including footballs. [This is] despite the Fremantle Dockers' goodwill. Still, we have a committed group and hope to start working with the Australian Embassy soon."
But to offset these difficulties, David still holds out an air of optimism for the future. "It would be great if we could organise competitions between Portuguese, Spanish, Catalonian and Andorran teams, both club and national. We could play in Madrid, which is more central, or rotate host cities. I think that there aren't many international club matches in Europe right now, and we in the Iberian Peninsula could step in to help fill that gap."
With suitable sponsorship it is exciting to imagine a competition which rotates between Madrid, Lisbon, Barcelona and Andorra.
CATALONIA
As has been mentioned by Dani in Spain and David in Portugal, the Catalan team is firmly on the radar of the Lisbon Dockers and the Madrid Bears for matches throughout the season. Whilst these will not be part of a fixture, they will likely be played as stand-alone challenge matches.
Catalonia was previously home to a promising local league with clubs in Barcelona, Valls and Tarragona, however this petered out in the last few years. Former president of Catalan football, Pere Moliner Salinas, confirmed that whilst there is "no regular league" in Catalonia this year, the team (or teams, depending on numbers) will await confirmation from other Iberian Peninsula teams to play various tournaments throughout 2013.
ANDORRA
For a detailed overview of the state of the game in Andorra, World Footy News published the article Andorran AFL – The Phoenix of the Pyrenees.